Part of iZotope's audio repair plug-ins for music and postproduction, the RX 8 audio editor follows RX 7 with new modules and improved features.
Featuring advanced machine-learning technology for assistive editing, the latest version of the plug-in adds Spectral Recovery, Wow & Flutter, Loudness Control and Guitar De-Noise.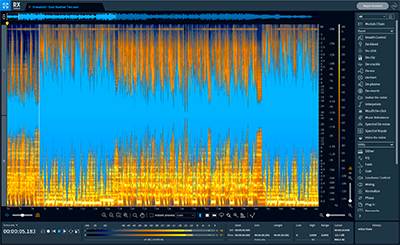 Spectral Recovery allows users to restore clarity to internet-compressed audio formats such as video calls and podcast streams, while Wow & Flutter enables pitch drift in physical recordings like vinyl and tape to be corrected and Guitar De-Noise tightens up noisy guitar recordings by taming amp hum, fret squeaks, and transient pick sounds. Loudness Control is designed for finalising audio for broadcast with compliance and intelligibility.
In addition to these new modules, RX 8 also brings improvements to several existing features. The De-hum module now has better detection and reduction algorithms. Music Rebalance has improved source separation algorithms and the ability to generate stems from a stereo recording. In response to customer feedback, the audio tab limit has been doubled from 16 to 32, horizontal scrolling is now available, and the Batch Processor allows faster fixes.
More: www.izotope.com