'Something truly new', Newfangled Audio's Pendulate is a monosynth using a new oscillator technique to create what are reckoned to be previously unheard sounds, including 'biting basses, searing leads, and gritty textures'.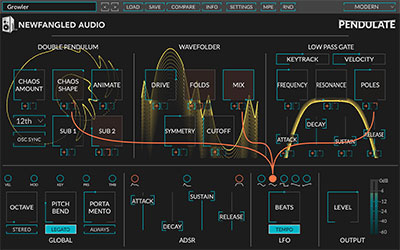 Pendulate is a chaotic monosynth based on the physics of a double pendulum. What initially looks like randomness contains underlying patterns, interconnectedness, constant feedback loops, repetition, self-similarity, fractals, and self-organisation.
'When designing the Pendulate oscillator, we took great care to bring out these underlying patterns,' the company says. 'The result is an oscillator that can smoothly fade from a sinewave to total chaos, with territory to explore in between.'
Pendulate's chaotic oscillator is matched with a wavefolder and low pass gate inspired by the ideas of synthesiser designer, Don Buchla. These three modules – oscillator, wave folder, and gate – combine to make sounds that are outside the reach of other sythesis systems.
Every parameter in Pendulate's three modules can be modulated by an included Envelope Generator, LFO or Midi and MPE sources. The innovative modulation interface allows any combination of sources to any destination to be easily and quickly patched. The Double Pendulum, Wavefolder and Low Pass Gate modules each have animations to show how each module responds to your input, and to modulation.
The plug-in comes with 136 presets, including artists sounds' from producer/DJ Matt Lange and film/TV composer Matthew Wang.
Key features:
Wavefolder based on Buchla 259 Complex Waveform Generator.
Low Pass Gate based on the Buchla 292 adds controls for poles and resonance.
Innovative modulation UI.
MPE support for control from innovative new controllers.
Envelope and LFO each have multiple outputs generated at once.
Every mod output routable to every control.
Three colour schemes to customise appearance.
More: www.eventideaudio.com