Antelope Audio has announced Instinct Synergy – marrying the audio tools from the Instinct creative signal processing effect plug-in with the processing engine of Antelope Audio's Synergy Core audio interfaces.
Working with Inertia Sound Systems, Antelope Audio is now able to offer Instinct's modulation effects – suited to contemporary experimental music styles and creative sound design where the input audio signal triggers envelope followers to create control signals and modulate parameters on its distortion unit – to be used without noticeable latency for real-time processing of solo instruments or instrument groups.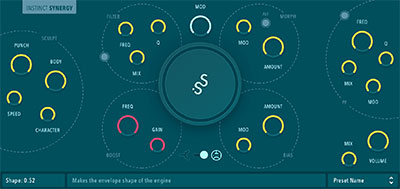 Using Antelope Audio's Discrete 4 Synergy Core, Discrete 8 Synergy Core, Orion Studio Synergy Core and Zen Tour Synergy Core audio interfaces' inbuilt Synergy Core effects processing platform, users can load Instinct Synergy and monitor the signal with imperceptible latency without adding CPU load to the host computer.
The concept behind both the original plug-in and the Synergy Core-compatible effect remains unchanged: an ability to control tone, drive, and drive circuit parameters dynamically, based on a Mod (modulation) signal that is created by the shaping or sculpting of the intensity envelope of the Sculpt section input. It is this feature that pumps the musical heart of Instinct Synergy. Applying that Mod signal to the drive circuit's Gain parameter produces a drive/transient shaper effect. Elsewhere, the shaped Mod signal can alter other parameters, such as Bias, post Filter cut-off Freq (frequency), plus transistor circuit shapers and tube circuit internal voltages (based on high-quality transistor and tube models that can be tweaked, interchanged, and modulated in depth).
Other features include a versatile signal flow (with one or two drive circuits in series providing a lot of freedom regarding which modules are active or inactive to create different signal flow choices with different character and a wide palette of resulting sounds), VA (Virtual Analog) modelled resonant filters (with internal saturation and self- oscillation), an ability to Morph across circuit models and circuit model parameters (that can be smoothly tweaked), a high-quality (transparent) Boost filter, and high-quality (zero-latency transparent) resampling.
Antelope Audio's Instinct Synergy comes with preprogrammed presets, varying from smooth warm dynamics to more creative, wild, and noisy tones.
More: www.antelopeaudio.com