New company Neold is the latest -in partner in the Plugin Alliance, offering its debut V76U73 emulation of the Telefunken V76 and U73 vintage preamp and compressor combination as a single easy-to-use digital tool.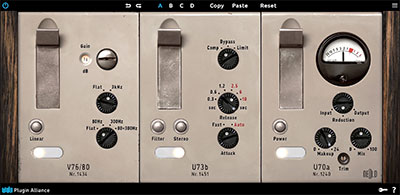 Original V76 preamps have all been snapped up for top dollar by high-end studios and collectors, opening the door to a plug-in alternative to the smooth-sounding 'variable-mu' dynamic control that earned the V76 and U73 their German Fairchild nickname.
Neold V76U73 is a accurate emulation of the real-world analogue circuits and components of the Telefunken V76 and U73, recreating the tube sound of this classic vintage preamp and compressor, and reflecting the simplicity of the original modules while also provides features and optimisations that are only possible in plug-in form.
It is equally effective vocals, guitars, bass, drums, and synths, and can be used in multiple instances on instruments and buses.
The Neold V76U73 was designed by Dominik Klaßen, Roger Schult and Reimund Dratwa – the minds behind the elysia Phil's Cascade plug-in. It is available in AAX AudioSuite, AAX Native, AU, VST2 and VST3 formats for macOS 10.9 through 10.15 and Windows 7 through 10.
More: www.plugin-alliance.com