TC Electronic's PEQ 3000 and DYN 3000 plug-ins promise to bring 'the tone and feel of a Midas console channel strip' to mixing, mastering and post-production, along with support for all modern plug-in standards. Optional USB-powered desktop controllers add control and tactile feedback to the software workflow.
With 12-bands of fully parametric EQ and a selection of filter shapes, the PEQ 3000 has all the features of a modern equaliser and the sonic performance of Midas EQ. In its manufacturer's eyes, it sounds nearly indistinguishable from the equalisation circuits on the Midas Heritage 3000 console.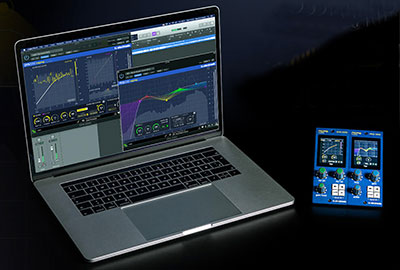 Designed with the flexibility required by a modern digital audio workstation, the PEQ-3000 can operate in mono, stereo, Mid/Side and Left/Right configurations, and also features phase shifting options for bringing out more of the original instruments sound and energy in a multi-microphone set-up. A high-resolution, constant-Q real-time analyser enables the impact of the EQ on the audio spectrum to be assessed, from sub-bass to treble. PEQ 3000 is designed for use on individual tracks, group buses or master tracks.
The DYN 3000 takes its cue from the dynamics processors found on the Midas XL8 and Pro series consoles, and adds the versatility of a plug-in. With four classic and content-dedicated compressor types and three flexible gate types, the DYN 3000 is intended for use on individual tracks, group buses and master tracks.
It also has Midas' proprietary presence control, for adding subtle air to compressed signals. In addition to this, DYN 3000 comes equipped with built in upward, parallel, and sidechain compression. It has several musical sidechain filter options, audition-function and vivid real-time displays to make setting quick and easy. The Static Gain Response and Scrolling History provide constant overview of use, even when a DAW is focused on another part of the mix.
Controllers
For control of both processes, TC has optional USB-powered hardware. The controllers are intended to look and feel like the dynamics and equalisation sections on a Midas console, with HD colour displays and 'analogue feel' potentiometers. The displays show all parameters from the plug-ins, so users can view and tweak settings without opening the plug-in window on the computer through the Plug-in Instance Selector. On-the-fly mix adjustments are made by touching a physical control, and the hardware controllers for the PEQ 3000 and DYN 3000 promise users 'a true Midas console experience in software form'.
The DYN 3000 and PEQ 3000 also include a wealth of custom-built signature presets developed by world-class producers and engineers as well as complementary settings tailored by the TC Electronic engineering team.
The DYN 3000 and PEQ 3000 are compatible with all major DAWs (Standard VST, Audio Units, and AAX-Native plug-in processing on Mac and Windows PC) and support standard DAW automation and project recall.
See also:
TC Electronic Master X HD Native/Brickwall HD Native
More: www.tcelectronic.com