French company Blue Cat Audio has released updates for its series of plug-in dynamics processors, and lowered the price of its Protector master bus stereo brick-wall limiter. The update boosts performance, introduces new GUI technology and a new preset browser with built-in search, as well as new presets.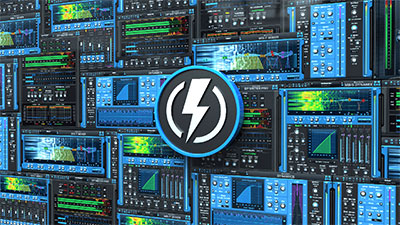 All plug-ins now come with high-resolution graphics for knobs and an overall GUI performance boost on the Mac, and with high-resolution graphics for knobs. In addition, the plug-ins' installation has reduced disk footprint
Blue Cat's Dynamics 4.3 – a full-featured dynamics processor – now comes with a new, searchable preset browser and added presets, It can simultaneously operate as a compressor, limiter, gate, expander and waveshaper.
The MB-5 Dynamix all-in-one multiband dynamics processor can be used as a multiband compressor, limiter, gate, expander, waveshaper or all combined at once, on any part of the spectrum, while the MB-7 Mixer multi-band processor can split the signal into several frequency bands and process them with third-party plug-ins or effects.
Blue Cat's Protector is the guardian of a DAW's master bus – a 0dB stereo brick-wall limiter with adjustable dynamics response, it will typically be the last effect on a master bus to protect both ears and equipment.
Blue Cat's Energy Pack combines all of these plug-ins in a single bundle, providing a complete solution for wideband, multi-band and side chain dynamics processing and monitoring.
More: www.bluecataudio.com