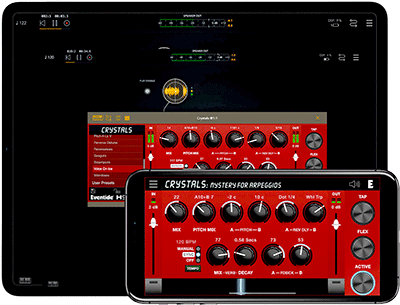 Eventide has released the Crystals plug-in, combining twin reverse pitch shifters with reverse delays and reverb for Mac, PC and iOS.
Taken from the H3000 Harmonizer, the Crystals effect can be used to create climbing and cascading pitched delays and unconventional reverbs. It features two reverse granular delays that can be manipulated by length and pitch. Crystals will spark inspiration.
Extremely long delay times (up to 4s per voice) with high feedback make it possible to use Crystals as an ambient looper, and it can be made musical by micro-pitching each voice around the 4th (500 cents), 5th (700 cents), or octave (1200 cents).
Eventide's dynamic and fluid Ribbon control can sweep the effect between two completely different settings of any combination of controls. A host of available presets allows easy configuration of parameters, with preset selection facilitated by the Mix Lock function that keeps the wet-dry mix constant while auditioning presets.
Crystals' two pitch-shifters each offer a four-octave range from two octaves down to two octaves up. Two independent delays of up to 4s allow smoothing of delay grain and each delay has independent feedback control. Reverb with up to 100s of decay is built into Crystals.
Crystals for Mac and PC supports VST, AAX, and AU plug-in protocols for compatibility with all DAWs.