Waves Audio has released a new version of its SoundGrid Studio software for real-time audio processing and networking.
SoundGrid Studio is used to control a Waves SoundGrid-powered system for recording and monitoring, plug-in DSP offload for mixing, and flexible audio networking. Its real time latency is 0.8ms when combined with a SoundGrid audio interface and SoundGrid DSP server. Plug-in-rich sessions can be assisted by offloading all plug-in processing from the main computer to a SoundGrid DSP server.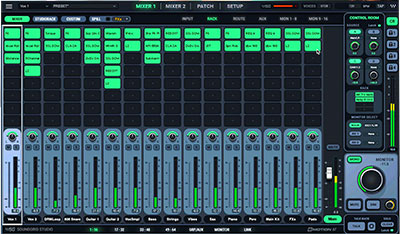 SoundGrid Studio can also be used for collaboration between producers and musicians, by connecting computers, audio interfaces, hardware synths, and other studio devices in a flexible, scalable open system.
The new SoundGrid Studio software brings updates to both the control panel and the included eMotion ST studio mixer. These include a new Control Room section that toggles between multiple sources and multiple monitors; advanced headphone monitoring options, allowing up to 16 personal headphone mixes to be created; the newly added ability to stream audio between up to 14 audio interfaces, and to share the same audio interface between multiple computers; an updated interface for both the SoundGrid Studio control panel and the eMotion ST mixer, with a new layered design and an updated patchbay; the ability to stream up to 128 plug-in channels from the StudioRack plug-in chainer, full compatibility with the Waves Abbey Road Studio 3 and Nx plug-ins, for spatial 3D headphone monitoring; and full compatibility with the latest V11 version of all Waves plug-ins.
SoundGrid Studio comes in four configurations – a free version with eight channels of the eMotion ST mixer; and the option to upgrade to premium versions with 16, 32, or 64 channels.
More: www.waves.com