Plugin Alliance partner Brainworx Audio has announced the first in a series of new plug-ins under the Amek marque, the EQ 200 equaliser.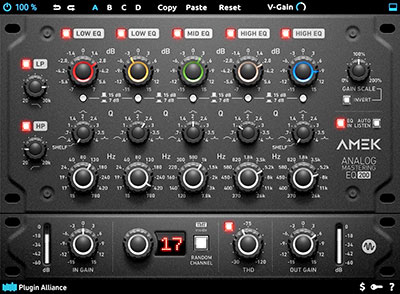 Drawing on its experience in analogue circuit behaviour modelling, Brainworx's goal with the Amek EQ 200 was to recreate the sound of parametric equalisers from the 1970s and 80s – brands such as Sontek and GML. The resolution, transparency, headroom and precision of these mastering-grade EQs served as the inspiration for many later equaliser designs.
The EQ 200 plug-in is inspired by the sound of Brainworx founder Dirk Ulrich's own GML 8200 EQ – one of his favourite pieces of analogue outboard – a seven-band EQ, featuring five wide, overlapping fully-parametric bands with 15dB boost or cut for each band, additional high- and low-pass filters, and low and high shelving EQs.
Enhancing the original design are Auto Listen (available on all five bands to audition each change in isolation); continuously-variable high-pass and low-pass filters (with a 12dB per octave slop); Mid/Side processing; Mono Maker (sums low frequency content to mono to give focused, punchy bass response); Stereo Width (to expand the stereo width of tracks); and variable THD; TMT (Brainworx's Tolerance Modeling Technology that simulates channel-to-channel variances in electronic components), and Correlation, Balance, input and output meters.
Amek EQ 200 has a scalable UI to adapt to users' screen size and workflow, with presets providing a useful starting point for finding sounds. It will be included in Plugin Alliance's monthly Mega Bundle subscription and annual Mega Bundle subscription at no extra cost.
More: www.brainworx.audio