Eventide has announced a new overdrive/distortion plug-in for Mac, PC, iPhone and iPad.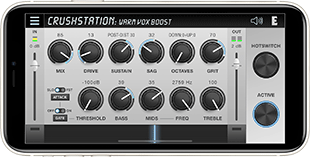 As well as being a versatile, stereo distortion processor able to enhance a track with creamy saturation or create a brutal sonic assault, CrushStation offers three-band EQ, compression, an octave mix and, Eventide's take on failing hardware – Sag. The mix control blends the dry signal with CrushStation to create parallel compression, distortion and other effects.
FX expert Alex Case refers to CrushStation's combination of ingredients as the '3Fs' – Fit, Fix and Feature – processes that allow a weak snare track to be fixed by adding grit and compression, a lead to be fitted into a mix by adding warmth and bottom, and a lead to be crushed as a feature.
'CrushStation has such a broad range of use that it begs for a comprehensive set of presets,' says Eventide Product Manager, Collin Bevan. 'We've made our best efforts to creating dozens of presets that cover the many ways you'll want to use it. CrushStation comes bundled with 35 presets so you can always find one that gets you close to where you want to be.'
Key features:
Drive from subtle boost to deep overdrive.
Grit and Sustain push into fuzz territory.
Sag adds the sound of analogue power rail sag.
Three-band EQ.
Gate to tame an aggressive distortion output or Mix for parallel gated crunch.
Ribbon 'plays' the effect in real-time.
Hotswitch between two settings within the same preset.
MixLock keeps Mix control constant as presets are auditioned.
CrushStation is available as a VST3/VST2, AAX, and AU plug-in for Mac and PC. It is also available as an AuV3 plug-in, standalone app, or Inter-App Audio effect for iPhone and iPad.
More: www.eventideaudio.com