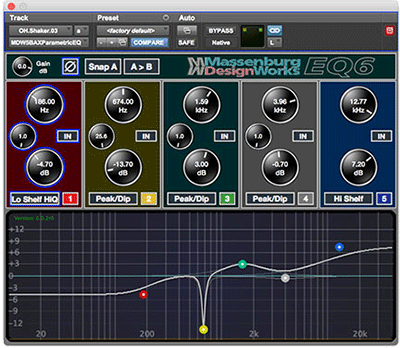 Massenburg DesignWorks has released the MDWEQ6 AAX DSP Native high-resolution parametric EQ.
Claiming nearly immeasurable low distortion, unprecedented clarity and resolution, unmatched smoothness, accurate and consistent equalisation parameter representation, and superb high-frequency response, the MDWEQ6 hi-res parametric EQ is designed for performance and flexible ergonomics in the mixing environment. This new generation plug-in emulates the constant shape (reciprocal) filter curves of the industry-standard reference for parametric EQ, Massenburg's GML 8200 equaliser.
Version 6 continues to offer AAX DSP and AAX Native 32/64-bit format support, and now provides additional features 'that make equalisation more succinct and effective'.
The MDWEQ6 v6 is available on the Avid website for US$299, providing functionality for both AAX and Native Pro Tools systems. An upgrade from v5 is available on the Massenburg DesignWorks website for US$99, including the new interface and added features. Both Native and DSP/AAX are available together.