G-Sonique has updated its Pultronic EQ-110P vacuum tube equaliser plug-in to include a native 64-bit version, a free update for owners of the 32-bit version. The EQ-110P is suitable for recording, tracking and mixing.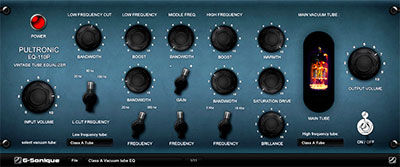 The Pultronic EQ-110P is an emulation of the classic 1950s/60s professional parametric vacuum tube equaliser designed to add 'real and hearable' warmth, colour and dynamics of the original vacuum tube devices.
Frequency and amplitude analysis of input and output impulses from real vintage vacuum tubes were recorded via the vintage devices during the plug-in's development. This process delivered several algorithms that emulate the various vacuum tubes in order to achieve a wide spectrum of music colours. The characteristics of the resulting model are close to the real circuits of the electronic equalisers.
The plug-in offers four parametric filters: Low Frequency cut, Low Frequency boost, Mid Frequency cut/boost and High Frequency boost. These offer sweeening of the programme as well as soft saturation it and emphasis of bass and treble frequencies. The Warmth, Saturation and Brilliance parameters can be used to adjust the characteristics of the output vacuum tubes.
More: www.g-sonique.com