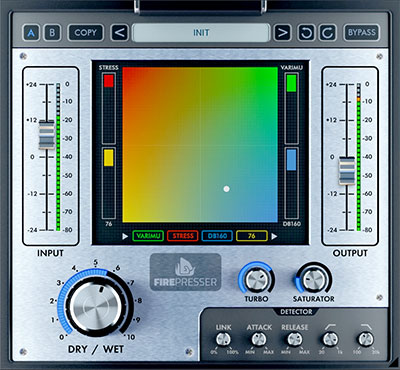 United Plugins has announced FirePresser, a plug-in that promises a 'fresh take' on compression.
FirePresser is a serial multi-compressor plug-in designed to be 'suitable for every situation where compression is needed'. FirePresser has been developed in collaboration with United Plugins to provide emulations of four iconic analogue compressors, labelled as VariMu (coloured green), Stress (coloured red), DB160 (coloured blue) and 76 (coloured yellow) through an uncomplicated user interface that allows all of them to be blended.
Users can quickly rearrange the order of the compressors with simple drag-and-drop movements. Meanwhile, FirePresser's Rainbow Pad provides control over the amount of influence each compressor in the current chain is having, reflected visually by blending their associated colours on screen. Dragging a single parameter simultaneously controls the setting on all four compressors.
Alternatively, users can choose to work with the Detector controls, simultaneously connecting them to the features of all engaged compressors. FirePresser's overall effect can be also accentuated by dialling in the Turbo knob.
FirePresser comes preloaded with professionally-programmed presets for almost any studio scenario. Operation is simply a case of loading a preset and adjusting the Dry/Wet knob to achieve the desired result. An advanced serial multi-compressor plug-in, FirePresser with run with most major DAWs on macOS and Windows, using internal 64-bit audio processing to handle sample rates up to 192kHz.