Eventide's Spring plug-in takes the reverbs found in guitar amplifiers and popularised by surf, garage and rockabilly into a new era by allowing manipulation of physical parameters not normally available in a real spring tank. The results vary from recreations of real springs to new sounds that push the physical boundaries of reverb.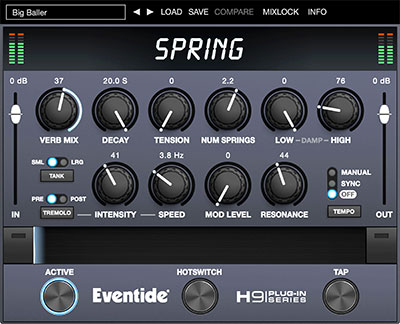 Eventide Spring contains two different sized 'spring tanks' along with ability to morph between one and three springs. The Ribbon can be programmed to seamlessly transition between any two settings in real time, while the added tube-amp-style tremolo can be routed before or after the spring resulting in an to craft unique reverb sounds. The intensity can be altered by changing the tremolo depth and the tremolo rate can be set in Hertz, or note value for tempo-sync.
Spring also allows independent control over the damping frequency for both low and high end, as well as the amount of metallic resonance present in the high damping frequency.
Key features:
Tempo Sync reverb decay to a DAW.
Control over number of springs and damping frequency.
Overall resonance control through size of the spring tank.
Tube-amp-style tremolo (pre/post-reverb).
Chorus-like effects with modulation.
Ribbon controller for dynamic modification of several knobs.
Programmable Hotswitch.
iOS version works as a standalone app, AudioUnit v3 effect or Inter-App Audio effect.
Mac/Windows plug-in version works as VST, AU, AAX.
More: www.eventideaudio.com