Waves Audio has announced native processing support for Waves SuperRack, its next-generation plug-in processing software for live sound and broadcasting.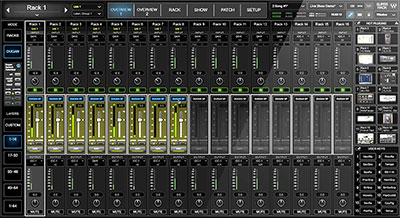 The SuperRack live plug-in rack now supports Native processing, allowing Waves plug-ins to draw on the CPU power of a Windows/Mac computer (using any ASIO/Core Audio interface) without a SoundGrid server connected.
Waves SuperRack is a plug-in rack that supports both Native and SoundGrid processing, enabling up to 128 audio channels to be passed through multiple instances of Waves plug-ins with near-zero latency and offers endless customisation options. SuperRack is an extension of a mixing console, designed for quick set-up time, flexible touch-friendly workspace and unlimited workflow customisation. FOH, monitor, broadcast, and A/V engineers can now run plug-ins in real time, customise their workspace with floating windows, set extended-scope snapshots, and run any live show with speed and confidence.
Key features:
View and control multiple plug-in instances simultaneously.
Multitouch-friendly graphic interface.
Expand workspace to up to four monitors.
Easily tweak small plug-in parameters with Touch & Slide fader.
Access up to 12 plug-ins per snapshot via Hot Plugins panel.
Adjust multiple racks simultaneously with Linking function.
Selectively recall snapshots via extended scope filter.
Compatible with any ASIO/Core Audio interface.
Does not require a SoundGrid DSP Server or I/O.
Import MultiRack sessions into SuperRack with ease.
Includes integration with Dugan Automixer.
More: www.waves.com/superrack