Waves Audio has announced the OVox Vocal ReSynthesis voice-controlled synthesiser and vocal effects processor. For use as a plug-in or standalone app (with or without DAW) OVox can create vocoder, talkbox, harmoniser, pitch/tune and vocal arpeggiation effects.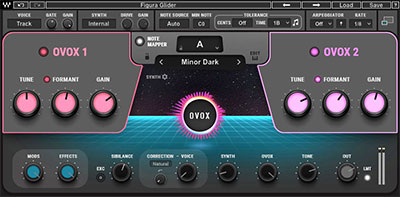 OVox employs Waves' Organic ReSynthesis (ORS) technology, which takes a vocal signal and breaks it down to its core elements – amplitude, pitch and formant – and re-synthesises these elements to create a new signal, without the artefacts that sometimes plague vocal synth-type instruments.
Midi control is optional, allowing OVox to be used without a keyboard or controller – a voice (or a recorded vocal) can be used to trigger automatic chords, harmonies or scales, using OVox's automatic Note Mapper.
Hundreds of OVox presets are available and an be tweaked using the basic controls in OVox's Main View, including Tune, Formant, and macro effect and modulation blending options, while the Expanded View unlocks its vocal-morphing possibilities –detailed control of OVox's key component, the Formant Filter, which enables the OVox synth to mimic the human voice so accurately, by imitating the effect of different sizes of vocal folds.
For extra morphing power, there are nine independent drag-and-drop modulators that can modulate any control within the plug-in. These include four LFO/sequencer modulators with a choice of 40 LFO shapes (plus the ability to draw custom shapes) and 16-step sequencer patterns; two traditional ADSR modulators; and three unique Organic ReSynthesis modulators that use the amplitude, pitch, and formant characteristics of a vocal to modulate other controls in the plug-in. OVox also boasts two vocal synthesis engines, OVox 1 and OVox 2, which can be controlled separately, based on a built-in eight-voice polyphonic synthesiser.
Key features:
Classic vocoder and talkbox effects.
Futuristic vocal morphing.
Plug-in or standalone app operation.
Pitch/tune, harmoniser, vocal arpeggiation.
Automatic Note Mapper.
Eight-voice synthesiser with dual high-resolution synth engines.
Nine customizable LFOs/Sequencer, ADSR and ORS modulators.
Six modulatable FX: AutoPan, Chorus, Compressor, Delay, Distortion, Reverb.
Fully modulatable four-band EQ.
More: www.waves.com