Wavesfactory has announced the Cassette audio plug-in, designed to emulate the characteristic sound of recordings made on cassette tapes and decks.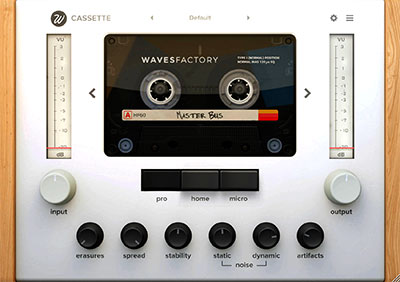 The plug-in has been modelled after analysis of audio examples recorded onto real tape, and reckons to impart the same sound and behaviour of the original units.
'This is my tribute to the sound that shaped my childhood,' says Wavesfactory founder, Jesus Ginard. 'I grew up listening to them at home, on the car or on a walkman. They are not perfect, in fact, they are far from perfect. That's what I love about them. Cassette has been designed to be fun, pleasant to the ear and true to the medium'
Modelled tape parameters include frequency response, frequency dependent saturation, high-frequency compression, hiss and asperity noise. Reproduction systems also induce wow, flutter, random high-frequency loss, crosstalk between channels, stereo unbalances and other. All of these quirks and random fluctuations have been modelled meticulously.
Cassette has modelled four cassettes types, each with different sonic characteristics.
I: Standard and most compatible using a ferric-oxide coating (Fe2O3).
II: Chromium dioxide (CrO2) formulation with increased in high-frequency response.
III: Ferro-chrome (FeCr) never made it into the golden era.
IV: Metal-formulated with firmer bass as well as louder high frequencies.
Changing tapes will have an effect in the frequency response of the plug-in but also in the saturation, compression, static noise (hiss) and dynamic noise (asperity noise).
Cassette controls include Tape (how much of the tape effect is applied, including frequency response and saturation), Stability (how the front panel Stability parameter works with 'randomness' for analogue unpredictability), Extra ( the Re-Cassette parameter), and Artifacts (how the front panel Artifacts parameter works internally, including Random Snap for simulating the tape being caught momentarily causing pitch instability).
Cassette uses oversampling in order to get rid of aliasing; the plug-in always works at 192kHz sampling internally.
No iLok or challenge response is needed for registering Cassette, which requires Mac OS-X (64-bit only): 10.7 or higher. DAW capable of hosting VST, VST3 or AU, or Pro Tools. It is supported by Windows (64-bit only): Windows 7, 8 and 10, and DAWs capable of hosting VST or VST3 plug-ins, and Pro Tools.