Waves Audio has released SuperRack, its next generation of plug-in processing software for live sound and broadcast engineers.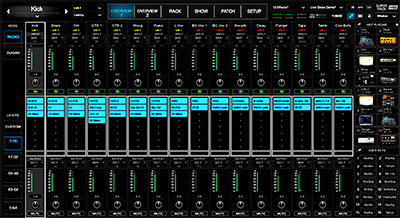 SuperRack supports up to 128 audio channels through multiple instances of Waves plug-ins with near-zero latency, and offers extennsive customisation options that enable application to be tailored to individual mixing workflows.
SuperRack operates in a SoundGrid Audio-over-Ethernet network, processing audio on a dedicated SoundGrid DSP server, which moves plug-in processing from the host computer to an external DSP server in order to significantly increase plug-in count, minimise latency, and enable the host and I/O devices to be far apart from each other while accommodating the most complex set-ups.
SuperRack is a logical extension of a mixing console, designed from the ground up for quick setup time, flexible touch-friendly workspace and unlimited workflow customisation. FOH, monitor, broadcast and A/V engineers can now run plug-ins in real time, customise workspaces with floating windows, set extended-scope snapshots, to run any live show with speed and confidence.
Key features:
Simultaneous view and control multiple plug-in instances.
Multitouch-friendly graphical interface.
Suport for up to four monitors.
Touch & Slide fader.
Access for up to 12 plug-ins per snapshot via Hot Plugins panel.
Map application and plug-in controls to Midi/computer keyboard.
Switch inputs and outputs while maintaining processing chains.
Linking function adjusts multiple racks simultaneously.
SoundGrid I/Os network sharing.
Selectively recall snapshots via extended scope filter.
Comprehensive device and network monitoring.
Advanced latency alignment management.
Host mirroring (DiGiCo) and DSP server redundancy.
More: www.waves.com/SuperRack