BAE Audio has added the 73EQL 500 series equaliser to its 1073 series. Featuring the same Carnhill/St Ives transformers, inductors and Elma switches as its 19-inch rack counterparts, the 73EQL claims 'highly musical and authentic tone shaping capabilities' using the same electronics and circuitry as its original Neve 1073 modules.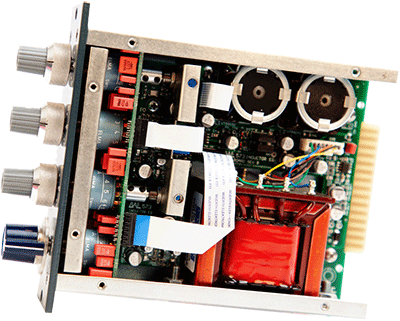 The 73EQL packs its tone shaping options into a diminutive size, as a partner to BAE's own 1073MPL 500 series preamplifier or as a stand-alone EQ to complement any other input source. With a three-band EQ section and high-pass filter controls, the 73EQL is able to shape nuances of sound sources while imparting the character of the 1073 for on-location, studio recording, mixing or mastering applications.
'The 73EQL shares the same pedigree and workmanship of our classic 1073 line-up,' says BAE Audio President, Mark Loughman. 'Achieving an authentic 1073 sound inside the 500 series format was a significant milestone for our company five years ago, and today we've managed to extend this capability into what we feel is the best sounding 500 series EQ on the market. With its extended control over all three frequency bands, the 73EQL delivers world class vintage BAE sound in a compact form factor.'
The release of the 73EQL follows the success of the 1073MPL 500 series preamplifier, which was introduced four years ago and was readily adopted as a foundational element for many commercial and project studios. BAE Audio has been building the 1073 for two decades; consecutively longer than any other company in history. The company's 500 series rendition of this classic circuitry is the result of many years of research and development, over which time the company strived to retain the authentic sound character of the 1073 in an impossibly small package – without compromising quality, materials or workmanship.
The 73EQL is available now at a price of US$950.
More: www.baeaudio.com