After introducing two all-in-one Guitar Plug-In Suites from Howard Benson and Will Putney, STL Tones and new partner Ignite Amps have released the Libra IR Mixer.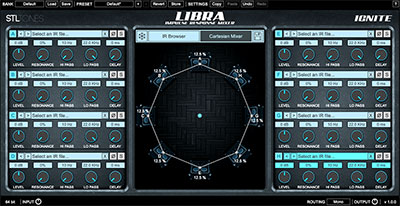 Compatible with AAX/AU/VST/VST3 and hardware amplifiers, plug-in is designed to be used as a multi-cabinet/microphone simulator for guitar and bass (pre)amplifiers. Libra allows users to blend up to eight impulse responses, performing convolution processing in real-time, while staying light on CPU usage. The plug-in also features advanced filters and delay for tone shaping.
Libra's Cartesian Mixer mode supports up to eight IRs loaded in a graphical view. Equipped with a Listening Point Control, end-users can drag and drop to blend between each Cab IR all while maintaining a consistent output level. Libra can then merge the blend into its own Impulse Response.
Overall, Libra is zero latency and low on CPU usage. It offers mono and stereo support along with automatic resampling for IRs with different sample rates. Each IR slot within Libra has its own set of controllable functions for maximum flexibility, including high-quality Hi/Lo-pass analogue shaped filters. Automatic phase recognition for negative phase IRs. Selectable delay for adjusting phase between loaded IRs. Level attenuator. Solo, and Resonance.
Libra is is compatible with WIndows 7+/Mac OS X 10.9+ and all major DAWs that support VST2, VST3. AU and AAX (32/64-bit). A free iLok account is required; end-users do not need an iLok USB/Dongle. Libra can be registered to a computer or iLok Cloud.
More: www.stltones.com