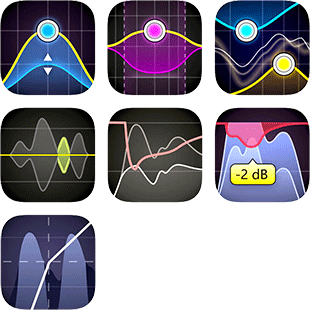 FabFilter has announced availability of all FabFilter Pro plug-ins in the AUv3 format for iOS on the iPad. They can be used in any AUv3-compatible host, including GarageBand, Cubasis, AUM, Auria and n-Track Pro.
Increasingly regarded as a 'serious' music production platform, Apple's iPad has been benefitted from increased processing power and the advent of the AUv3 plug-in format. FabFilter has been offering its plug-ins as in- app purchases in the popular Auria host for quite some time, but they could not be used in other hosts. With this release, all FabFilter Pro plug-ins are available to use in any DAW on the iPad that supports AUv3 plug-ins.
FabFilter has refined and tweaked the plug-in interfaces with touch behaviour and support for various interface sizes, including full screen support in all plug-ins.
Users who purchased the AUv3 plug-in version of FabFilter Pro-Q 2 for iOS earlier can upgrade to the AUv3 version of Pro-Q 3 by purchasing the Pro-Q 3 Upgrade Bundle. Users already owning Pro-Q 2 AUv3 for iOS will see the amount paid for it deducted from the bundle price.
FabFilter Pro-Q 3, Pro-C 2, Pro-DS and Pro-G are available individually for US$29.99. Pro-L 2, Pro-R, and Pro-MB are available for US$39.99. Users can purchase all AUv3 Pro plug-ins for iOS as a Pro Bundle for US$129.99. It is possible to purchase one or more AUv3 plug-ins now and upgrade to the AUv3 Pro Bundle later, in which case users will pay just the remaining sum.
More: www.fabfilter.com/ios