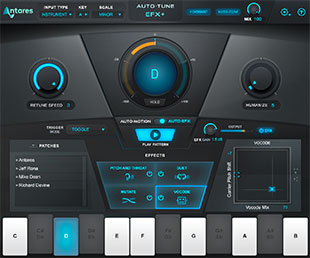 Antares Technologies has introduced Auto-Tune EFX+ plug-in, combining the core features of Auto-Tune with a multi-effects rack and the Auto-Motion melodic pattern generator.
Auto-Tune EFX+ is designed to provide a quick and easy means of adding effects to a vocal track, ranging from subtle enhancements to extreme vocal mutations and transformations.
More than 100 effects patches are available, some created by recognised producers such as Mike Dean, Richard Devine and Jeff Rona. The low-latency performance of Auto-Tune EFX+ allows direct tracking through the plug-in, and even performing live.
The EFX multi-effects rack includes six different effects modules – Pitch and Throat for real-time pitch and formant shifting; Duet for doubling with adjustable pitch and timing variation; a high-pass filter for EQ and special effects; Vocode for vintage analogue vocoder emulations; Tube Amp for analogue tube distortion modelling; and Mutate for ring modulated audio mutation. An XY Pad allows real-time control of parameters in each effects module.
Auto-Tune pitch correction is also included. The Retune and Humanize controls vary the pitch-correction from transparent all the way up to the well-known Auto-Tune effect used on many hits.
The Auto-Motion melodic pattern generator enables new melodic patterns and hooks to be created by automatically pitch-shifting the original vocal or instrumental tracks using the provided patterns. Auto-Motion features an extensive library of triggerable melodic patterns that intelligently adapt to the key and tempo of the song.
Auto-Tune EFX+ is compatible with Antares Auto-Key, which automatically detects the key and scale of the song and transfers this information to any and all instances of the Auto-Tune EFX+ plug-in with a single click.
More: www.antarestech.com