The latest release from California company Unfiltered Audio, Triad plug-in represents the successful outcome of last year's BYOME (Build Your Own Modular Effect) breakthrough by combining versatile modulation, and dozens of effects with a limitless multi-band workflow.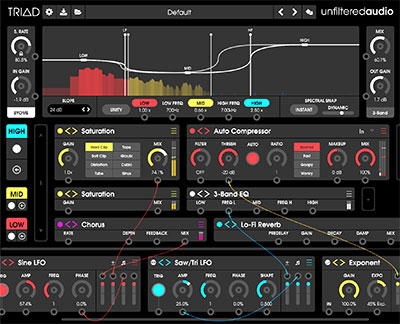 Triad splits an input audio signal into three bands to apply BYOME effects – tapping into Unfiltered Audio's modulation control choices via virtual cables – to each band individually. It is a three-band frequency splitter capable of processing the low, mid, and high frequency bands with different effect rows, consisting of 40 effect cells arranged into eight categories; each effect cell can be expanded and added to. These range from multi-band compression to frequency-dependent reverb, complex distortions to intricate delays, plus pitch shifting and an array of modulation-based effects – all of this and much more besides are a breeze to set up and control.
Triad can be used as a 'flat-sum' frequency splitter with adjustable cut-off points, guided by a first-rate FFT (Fast Fourier Transform) visualiser that displays the signal and allows for precise control over the band amplitudes and cut-offs on the fly. Furthermore, the Dynamic Spectral Snap feature allows automatic frequency cut-off balancing – an industry first, while well-crafted tools like Auto Cutoff and Unity Gain will keep the frequency distribution balanced between the bands, or even adjust the amplitude ratio without any overall volume change.
Changing the frequency splitting into a number of other multi-band processors –2-Band, 3x Parallel, 2x Parallel, Mid-Side and Left-Right – maximises effect routing possibilities. Many modes have a flexible pre/post row that can quickly swap positions from the start of the chain to the end, turning the tables on patches for facilitating speedy sound design workflows. Triad also features a Permutation Engine that rotates the function of each active band.
Triad's variable slope allows change from smooth band transitions to sharp cut-offs (12dB to 72dB per octave). And since most DAWs include individual low/mid/high band outputs, Triad can be used as a fully-routable splitter for use with any other plug in.
Unfiltered Audio's Triad is available for purchase as an AAX Native-, AU-, VST2- and VST3-supporting audio effect processing plug-in for MacOS (10.9-10.14) and Windows (7-10) – exclusively from distribution partner Plugin Alliance at US$299.