Accusonus has brought its single-knob audio cleaning and noise reduction technology to the new ERA 4 Bundles family of plug-ins for video editors, audio engineers and podcasters – The Standard Bundle and the Pro Bundle.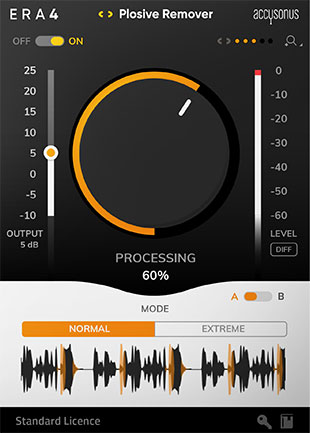 ERA 4 Bundles (Enhancement and Repair of Audio) are a collection of single-knob audio cleaning plug-ins designed to reduce the complexity of the sound design and audio workflow without compromising sound quality or fidelity. Accusonus' single-knob design greatly reduces a professional audio repair workflow and enables aspiring content creators, YouTubers and film and audio students to quickly master audio workflows with minimal effort or expertise.
The ERA 4 Standard Bundle is a collection of single knob audio cleaning plug-ins that includes Noise Remover, Reverb Remover, De-Esser, Plosive Remover, Voice Leveler and De-Clipper.
The ERA Bundle Pro 4 is a multi-patented bundle of audio repair tools for professional editors audio engineers and podcasters in advanced post and music production environments, Accusonus' intelligent tools help save significant studio time by automating typically time-consuming workflows and simplifying workflows with single-knob adjustments. The ERA 4 Pro Bundle includes all of the plug-ins from the Standard Bundle, and adds the ERA De-Esser Pro, a sophisticated, yet fast and easy to use de-essing plug-in. Except from the large main knob, ERA De-Esser Pro offers some extra controls to give you the granularity needed to dive fine-tune the settings for when fixing a really bad recording.
More: www.accusonus.com