Waves Audio has announced the Waves Submarine two-octave subharmonic generator plug-in.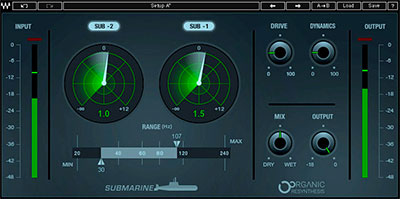 Submarine adds sub bass to tracks, claiming 'unprecedented' clarity and low-end accuracy. Powered by Waves' Organic ReSynthesis technology, Submarine's two subharmonic generators deliver balanced subsonic results on any large sound system.
The plug-in's Organic ReSynthesis engine strips the original signal down to its core elements – carrier, pitch, formant, and envelope – processes them individually, and then reconstructs the audio to create new sub frequencies that retain the pitch and time of the original signal. The result is deep subharmonic content that is clean and musical and naturally blends with the source. The plug-in's Range slider zeroes in on the frequencies from which sub sounds are required – anywhere between 20–240Hz.
The Drive control is used to saturate the added subs and glue them into the mix. While the Dynamics knob goes from short transient sub sounds, to heavier compression for longer sustained sub notes.
Key features:
Organic ReSynthesis technology.
Two subharmonic generators.
High-precision 20–240Hz frequency range.
Drive saturation control.
Dynamics control.
Selectable Mono/Stereo control.
Dry/Wet control for parallel mixing.
Zero latency for real-time mixing; SoundGrid-compatible.
More: www.waves.com