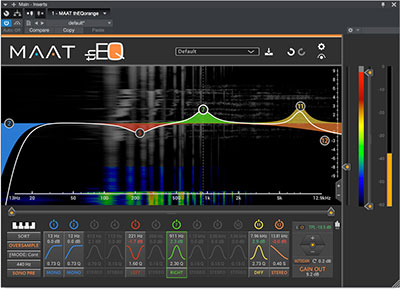 Maat Incorporated has released thEQorange, a cross platform plug-in for equalisation and correction of digital audio. The new product continues the legacy of the Linear Phase PEQ Orange, while claiming several 'firsts' for the equalisation marketplace.
Available for both Windows and macOS, thEQorange builds on the foundation of Algorithmix's LP EQ Orange. thEQorange is a two–pass, time domain equaliser that employs 80-bit floating point internal precision. It reduces pre and post–echo, while also providing exceptional pass and stopband ripple behaviour, normally not achievable with frequency domain linear phase equalisers. Its complex internal architecture, sophisticated signal windowing, and applied calculation precision all contribute to its exceptionally natural sound and exacting fidelity.
The exclusive Contribution Control allows an engineer to isolate only positive additions to a mix, only negative gain changes, the sum of both, and 'normal' mode; all EQ changes along with the original input signal. The Contribution Control helps to aurally keep track of progress, while speeding workflow.
The plug–in is available in all modern formats, including cross–platform AAX and VST 2 and 3, as well as AU for macOS. Sample rates up to 384kHz are supported for postproduction of true HRA workflows. Perpetual and annual subscription licenses for thEQorange are available now, exclusively from Maat. Images and additional information, including user manuals and videos, are accessible at anytime on the web.
More: www.maat.digital