Waves Audio has released the CLA MixHub plug-in. Developed with Grammy-winning engineer Chris Lord-Alge, CLA MixHub captures the console workflow and analogue sound of Lord-Alge's mixes.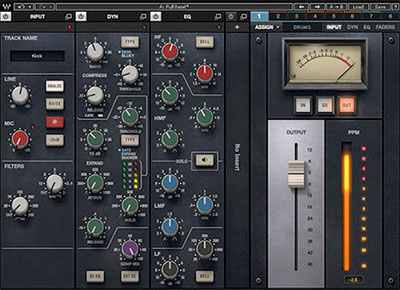 CLA MixHub supports mixing of up to 64 tracks from the same plug-in window using channel strips modelled on Lord-Alge's personal console. CLA MixHub is the first plug-in to work in buckets – groupings of up to eight channels, in up to eight buckets in total. Mixing tracks side-by-side in MixHub's buckets allows each track's processing aeffect others within a song to be assessed.
Once CLA MixHub is inserted on the channels in a mix, tracks are assigned to buckets and adjustments made on the fly – mixing dynamics, EQ, saturation – at a free-flowing pace without needing to switch plug-in windows in the DAW. Mixing offers two plug-in view modes – Bucket view, with control of up to eight channels at a time, and Channel view, focusing on a single channel's processing chain.
Each channel consists of five sections – Input, dynamics, EQ, output, and an insert point. Each processing module can be expanded to reveal additional functionality.
The input section handles high- and low-pass filtering and switchable harmonic distortion. The 'line' control models the line amp in Lord-Alge's console, adding light saturation. For more extreme drive, kick in the mic pre. This, in effect, is like running a line-level signal through the console's microphone preamp.
The dynamics section includes two flavours of compression: the console's built-in compressor, as well as Lord-Alge's favoured Bluey (Waves CLA-76 Compressor/Limiter) compressor. Also included: a gate, expander and ducker with a hold control and flexible sidechain options for shaping a sound's envelope.
The EQ section includes four bands of parametric EQ, from wide bells to narrow boost and cuts, loaded with the console's original ballistics and Q characteristics. The output section includes a VU meter and plasma-style PPM meter, plus a stereo imaging control and an output fader. In MixHub's channel view, the insert point can be used for adding an additional Waves plug-in to your MixHub's chain, making it a one-stop solution for your entire mix.
Key features:
Meticulous modelling of Lord-Alge's console with added functionality.
Control up to 64 channels from a single plug-in window.
Flip anytime between bucket view and single-channel view.
Insert slot: Load an extra Waves plug-in within each CLA MixHub channel strip.
Re-order processing chain within the plug-in.
Flexible dynamics sidechaining.
Includes Lord-Alge's personal presets.
'Mixing in buckets means the world to me,' Lord-Alge says. 'It's one of the secrets to my success and to my fast-paced, decisive mixing. By creating this plug-in, I'm able to give others access to that same quick workflow in a plug-in, pushing the envelope of in-the-box mixing to the next, CLA-approved level.'
The CLA MixHub plug-in is included in the Waves Mercury, SD7 Pro Show and Pro Show bundles.
More: www.waves.com/mixhub