Waves Audio has introduced the Waves Abbey Road TG Mastering Chain plug-in, comprising the TG12411 Input Module, TG12412 Tone Module (EQ), TG12413 Compressor/Limiter Module, TG12414 Filter Module, TG12416 V.A.L (Spread), and Module (stereo component only) incorporated into the Output Module.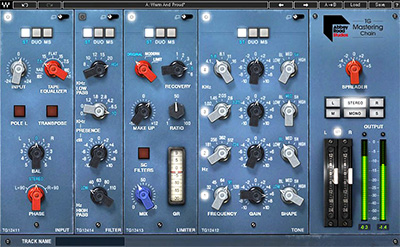 Developed with Abbey Road Studios, the TG Mastering Chain plug-in is a modular mastering chain plug-in modelled after the EMI TG12410 Transfer Console used in all Abbey Road's mastering suites since the early 1970s to this day. The distinct solid-state transistor-based sound of the TG12410 has proven itself over many decades.
Modules can be interchanged (except for input/output modules) and switched on/off to provide a flexible processing flow and creating custom chains. Individual modules can be used on different tracks and group buses in a mixing session, as well as on the master bus in mastering sessions. The compressor/limiter module offers two flavours – Original and Modern – and is coupled with 48dB/oct linear-phase sidechain filters. Original isaggressive and 'dirty' like the 1970s, while Modern is an original Waves/Abbey Road design based on the TG topology for higher levels of perceived loudness.
Alongside the TG Mastering Chain is the Meter Bridge component (separate plug-in), offering a new approach to metering. Open one Meter Bridge component on any channel and get access (via drop-down) to all Abbey Road TG Mastering Chain instances in a session.
Key features:
Five independent modules.
Mastering or in mixing use.
48dB/oct linear-phase sidechain filters.
New compressor design, SC filters and the meter bridge.
Stereo/Duo/MS processing modes.
Stereo/Mono/L/R/M/S monitoring modes.
Live component.
'I remember seeing the various TG Mastering modules used frequently in the studios and they still are to this day, most recently for mixing Brockhampton's Iridescence album which debuted at #1 on the Billboard top 200,' says Abbey Road Studio Head of Audio Products, Mirek StiIes. 'I wasn't so familiar with the mastering rooms' workflow, but from spending time with the engineers it was important to learn that the TG modules are used on almost every project; the only exception being the compressor, which can be a little too harsh for some stereo masters. With this in mind, the Waves and Abbey Road teams went about tweaking the original TG topology. Low-level information is more prominent and the VCA curve and attack release circuits were modified to create something more suitable for today's mastering requirements. The end result was signed off by Abbey Road's mastering engineers and we are all very proud of this plug-in. It's an extremely versatile and beautiful sounding tool for both mixing and mastering.'
The Abbey Road TG Mastering Chain plug-in is included in the Waves Abbey Road Collection bundle.
More: www.waves.com