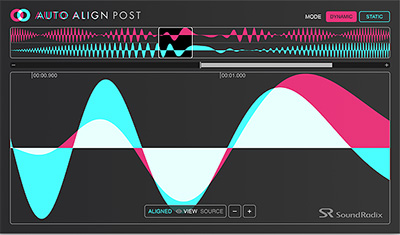 Sound Radix has announced the Auto-Align Post AAX AudioSuite plug-in for Avid Pro Tools, designed to automatically correct the delay and comb-filter phase issues occurring when mixing a recording of multiple moving microphones, such as in the case of a shoot set-up using a boom microphone in addition to actor's lavalier microphone or multiple on-set microphones.
Building on the proprietary technology of the Auto-Align plug-in, Sound Radix has developed a next-generation algorithm that makes phase/time correction of a moving multi-microphone recording of an entire film 'a matter of a few clicks and a short coffee break'.


Key features:
Corrects for distances of up to ~112ft/34m or a delay of ±100ms.
Dynamic mode enables continuous phase/time correction.
Static mode enables fixed phase/time correction for stationary mics.
Transparent, filter-free design.
Multichannel support.
Algorithm optimisation for CPU efficiency and operation speed
System requirements: Intel Core 2 Duo CPU or greater, and 4GB RAM or higher with Mac OS-X 10.7 or higher. For Windows, the plug-in requires an Intel Core 2 Duo CPU or greater and 4GB RAM or higher, with Windows 7 or higher. Supported hosts include
 AAX AudioSuite on Pro Tools 10 or greater. Media Composer is not supported. Authorisation requires a free iLok account and iLok License Manager (iLok USB key is not required).
Auto-Align Post ships at an MSRP of US$299.
More: www.soundradix.com