Audionamix has announced the IDC: Instant Dialogue Cleaner plug-in, its first real-time, cloudless solution for postproduction and broadcast workflows.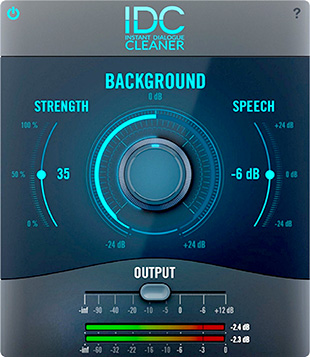 The IDC plug-in uses DNN (deep neural network) artificial intelligence to automatically detect and separate speech from surrounding content, addressing common audio issues including complex interference, wind, birds or insects, car and plane interference and roomy recordings. Intended applications cover production audio, field recordings, news and sports recording for audio post, dialogue editors, re-recording mixers and broadcast engineers.
'IDC is unique because unlike traditional denoisers that learn and remove noise, it works by separating and preserving speech, regardless of the interference,' says Audionamix CEO, Maciej Zielinski. 'This plug-in offers immediate dialogue clean up with the turn of a knob and addresses common audio issues such as complex variable noise interference including weather, traffic noise, music and room ambience.'
The feature set includes independent gain control over separated background and speech elements, allowing removal of background content while preserving separated speech. The separation strength parameter controls the amount of separated background to avoid artefacts. The IDC GUI helps to manage background interference levels with a turn of the main knob. Additionally, output level control prevents clipping or overloading the plug-in, while output meter and clip indicator indicate the overall output level of the plug-in.
IDC will be available in VST, AU, AAX Native and AudioSuite formats for both Mac and Windows systems. The plug-in supports samples rates up to 192kHz, bit depths between 16 and 32 bits, and features fully-automatable plug-in settings.
More: www.audionamix.com