Waves Audio has released the Tract System Calibration plug-in and the Tract System Calibration + Smaart Di v2 bundle. The plug-in integrates with Smaart audio analysis software to auto-correct EQ issues and time-align sound systems both live or in the studio.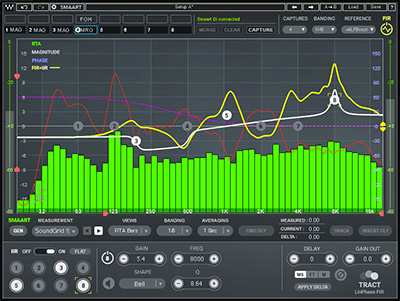 Tract calculates a corrective FIR EQ curve and time alignment corrections using data from Rational Acoustics' Smaart v8 or Di v2. Users can quickly take and merge up to eight measurement snapshots of a system and select a reference as the basis for EQ corrections. Included are four common reference curves, or users can create reference presets.
Once the FIR EQ is calculated, it can be manipulated by changing the reference curve, limiting its frequency and amplitude ranges, or by supplementing it with up to eight bands of IIR EQ filters. IIR filter shapes include bell, low/high Sshelves, flat-tops, Butterworth and Linkwitz-Riley curves, a Tilt EQ with a variable frequency pivot point, and an all-pass filter.
Tract also includes a minimal-phase FIR component, which works at very low latency and with low phase distortion, as well as a linear-phase FIR component. It can be used in a live setting with any mixing console (via Waves MultiRack), with the eMotion LV1 Live Mixer, or, coming soon – with SoundGrid Rack for Venue S6L; or it can be used within any major DAW.
Waves is also offering a Tract System Calibration + Smaart Di v2 bundle, which includes the Tract plug-in and Smaart Di v2 audio analysis software – the tools you need to accurately EQ and time-align a sound system. Rational Acoustics' Smaart Di v2 audio analysis software features a dual-channel iteration of Smaart's Spectrum and Transfer Function engines.
'Tract is the first plug-in to use the Smaart API for integration of Smaart measurement data,' says Rational Acoustics CEO, Karen Anderson. 'Together, Smaart and Tract create an elegant, intuitive solution to allow live sound engineers to analyse and optimise a system's response within the plug-in environment.'
More: www.waves.com