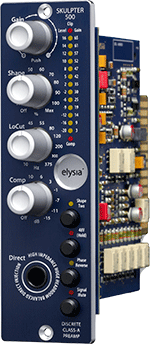 High-end studio processor manufacturer elysia has announced the skulpter 500 sound shaping preamp for its line of 500 Series hardware processors.
The skulpter 500 features gain stages based on single resistors controlling a fully-discrete class-A amplifier offering a gain range starting at 3dB and extending up to 65dB. Should additional coluoration bof the signal e required, two variable saturation/filters and an intelligent one-knob compressor are available. The skulpter 500 also provides a balanced DI input with headroom of up to +19dBu to accommodate guitars, basses, synths, and effects.
A further feature of the preamp is its DC-coupled input stage, which avoids the use of coupling capacitors to influencing the signal. All stages, including the preamp, compressor, sound shaper and variable low-cut filter employ discrete class-A topologies.
'We believe the skulpter 500 is far more than just another preamp,' says elysia CEO Dominik Klassen. 'With all the amazing features in such a small form factor, it's more a complete recording solution – everything you'll ever need in front of your DAW.'
The skulpter 500 is manufactured in Germany and carries an MAP of US$879 ($949 MSRP) or €589 net (plus VAT where applicable).
More: www.elysia.com