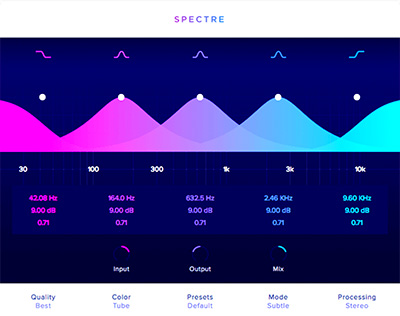 Spectre is a sound-shaping plug-in from Spanish company Wavesfactory that combines the features of a boosting parametric equaliser with a multi-band enhancer for use on individual tracks, submixes, the entire mix or for mastering.
Spectre enables the addition of harmonic content from a variety of algorithms based on classic recording hardware. Any of the five bands can be adjusted to add the audio process to just one or up to five bands with adjustable Q.
Key to its functioning is an Enhancer/Exciter with five parallel boost-only parametric bands (Low Shelf, three Peak bands, High Shelf) with the workflow of a graphical equaliser with frequency, Q and gain parameters for each band.
Spectre can process mono/stereo signals, only left or right, mid or side channels. The process does not operate like a conventional equaliser; the cut or boost the volume of a band based on the audio being presented. Spectre introduces harmonic content that was not in the original recording, bringing colour and life to the sound not possible with a conventional EQ.
Offering eight different saturation algorithms, Spectre is more versatile than a simple enhancer – Tube, Tape, Solid, Warm Tube, Class A, Diode, Bit and Digital. A clean channel converts Spectre into a parallel boost EQ. Optional 4x and 16x oversampling modes offer pristine audio with no aliasing even at aggressive settings.
System Requirements: Mac and Windows (AAX/VST/AU), 32- and 64 -bit.
More: www.wavesfactory.com