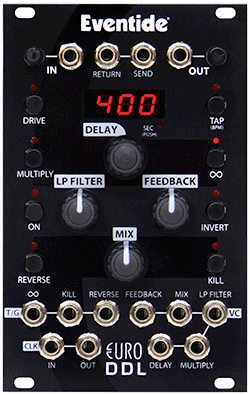 Eventide has released the EuroDDL, entering the Eurorack modular market with a 16HP digital delay module.
Eventide's old school design philosophy limits digital circuitry to the delay itself, meaning that the unit's soft saturation clipping, low-pass filter, feedback, insert loop and +20dB boost are all analogue circuitry. The delay converter is 24 bits with a maximum delay time of up to 10s at 192kHz sample rate and 160s at 16kHz sample rate. Delay time can be varied smoothly and over a wide range – either manually, via tap (BPM) tempo, or by remote control voltage. Short delays can be used for comb filtering and flanging effects with longer delays for echo, infinite delays for looping, and backwards delays for reverse effects.
All the controls of the Eurorack module are remote controllable using jacks for VC (voltage control) and T/G (trigger to gate) control of Clipping, Kill, Reverse, Feedback, Mix and LP Filter. There are also jacks for Return/Send and CLK (clock) In/Out.
'There's usually a modular this or that floating around at Eventide,' says Eventide Director of Marketing Communications, Nalia Sanchez. 'We wanted to create a delay that can be played by musicians like our own resident experimental music artist Anthony Saunders. Plus, we wanted it to sound, feel and behave like an analogue instrument by doing as much as possible with analogue components. It adds cost, but makes a clear difference. There seems to be something that happens to sound when it's operated on in quantised time. The EuroDDL module keeps whatever that "something" is to a bare minimum."
The EuroDDL design is derived from the Eventide DDL-500, the 500 Series delay module.
More: www.eventideaudio.com