Lawo's IP-based mc²96 Grand Production Console promises optimal performance in IP video production through native support of all relevant interface standards – SMPTE 2110, AES67, Ravenna and Dante.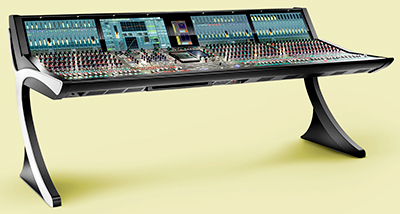 Available in frame sizes with 24 to 200 faders, the flagship audio mixing console is Lawo's most 'visual' broadcast console to date, featuring 21.5-inch full HD touchscreens, mini colour-TFTs in channel strips, and touch-sensitive colour-coded encoders for overview and user-friendly operation.
The console also features LiveView video thumbnails. In addition to standard channel labelling via channel numbers, individual text labels and static pictures or icons, the mc²96 can display real-time video thumbnails right at the fader's mini TFTs. Touching a fader changes the LiveView thumbnail to full-screen mode, providing a more detailed view of that channel's video source, such as a camera or a replay machine.
Designed for networking in complex IP production infrastructures, the mc²96 employs Lawo's IP-Share Network Gain Compensation when using shared Dallis I/Os to prevent unexpected changes on up to eight networked consoles when individual users adjust their gain settings. The Dallis I/O communicates with all networked consoles, and its IP-Share algorithm sets the optimum analogue gain for multi-client requirements. IP-Share also ensures that the corresponding gain compensation is applied to the digital gain stages of all consoles when the analogue gain of the preamp is being adjusted.
Reflecting today's requirements for 3D/immersive audio productions, the mc²96 provides not only superb tools for surround sound mixing, but also a dedicated elevation controller as standard. It also offers integrated Loudness Metering with full loudness control in accordance with ITU 1770 (EBU/R128 or ATSC/A85). ln addition to programme buses, Lawo Loudness Metering can also measure individual channels, which allows fast and convenient "visual" mixing of multiple-microphone set-ups.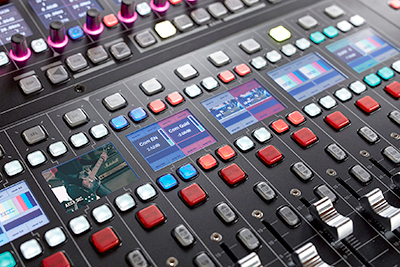 Lawo's new flagship can also be operated in Multi-User Mode, with 96 rotary encoders in each 16-fader bay giving direct access to all parameters, effectively creating an additional central control panel. Color-coding of the encoders, coupled with the high-res colour TFT displays, guarantees a perfect overview and users can now create, save and recall multiple personalized free control layouts directly in their own bay.
Addressing live broadcast and performing arts applications, the mc²96 offers many innovative mix-assist systems enabling the sound engineer to concentrate on the overall balance and sound quality of the production. In addition to Lawo's Audio-follow-Video functionality, the desk's automated mixing capabilities include an Automix function that automatically adjusts the levels of active and inactive microphones while maintaining a constant ambient level. The console also features Lawo's Ambit Upmix function for faithful conversion of stereo signals to surround-sound, and supports Lawo's Kick 2.0 automated close-ball sports mixing.
For flexibility in I/O, the console offers plug-and-play interfacing with all Lawo Dallis modular stageboxes including AoIP options and the Lawo A__line interfaces and Nova central routers. In addition, as the mc²96 surface includes local I/O with comprehensive connectivity via 16 mic/line inputs, 16 Line outputs, eight AES3 inputs and outputs, eight GPIOs plus a local Madi port (SFP). Onboard switching provides four Ethernet ports with network connectivity via two redundant SMPTE2110/AES67/Ravenna ports with seamless protection switching.
More: www.lawo.com