Solid State Logic has announced a 'significant'update to the Sigma Remote Controlled Analogue Summing Mixer.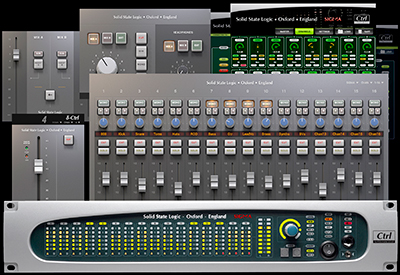 Following the v2.0 software release that brought SSL δelta-Control technology – automation allowing the writing, editing and playback of analogue automation data via DAW plug-ins – to Sigma in early 2016, v2.1 adds EuCon control and three new AAX, AU and VST3/VST format plug-ins. These include a 16-channel plug-in that brings Logic compatibility for the first time, and new mix bus and monitoring plug-ins to streamline session control and recall.
The new 16-fader Sigma δelta16 plug-in brings compatibility to Logic users, as well as offering an alternative workflow to Sigma δelta Single Fader plug-in users. The Sigma δelta16 plug-in allows automation for Sigma's 16 analogue faders to be written from one plug-in window, solving Logic's inherent limitation of only being able to write data to one plug-in at a time. In addition to this, Sigma δelta16 can control pans, solo, cut, mono/stereo selection and mix bus assignments. A second new plug-in, the Sigma δelta Mix Bus, allows users to automate Sigma's two stereo mix buses and their insert points.
The Sigma δelta Monitoring plug-in provides full control of Sigma's monitoring section, including monitor and headphone levels, monitor cut, dim and source selection. Theese features deliver an analogue summing mixer that is compatible with all major DAWs and instantly recalls when moving between DAW sessions. Sigma Single Fader plug-in users can continue to use established workflows and single fader-based sessions are backwards compatible.
In addition to these new features, Sigma δelta 2.1 offers improved integration into multiple studio workflows and set-ups. The new plug-ins provide streamlined implementation with EuCon-enabled control surfaces such as Avid S3, S6 and Artist series, or the Pro Tools Control app. Sigma δelta's plug-in parameters map across EuCon control surfaces via the Insert Editor, meaning that users can move between controlling summed Sigma mix and DAW sessions from the same surface. Likewise, Nucleus users continue to be able to control Sigma directly via the Nucleus Sigma δelta MCU profile, while being able to switch layers to control DAW session. In Sigma δelta 2.1, Sigma's Remote application receives a maintenance update and is also now available as a dedicated Sigma Remote app, available on Apple's App Store and Google Play for Android.
Sigma δelta 2.1 will be available for download from Feb 2017 via SSL users' web accounts.
More: www.solidstatelogic.com