Yamaha has announced v4.0 firmware for its CL series of digital mixing consoles.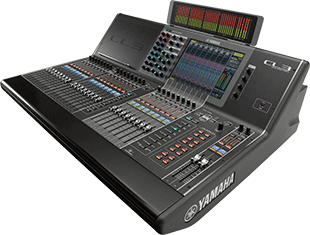 The update brings new EQ algorithms, a Premium Rack device and other features. The StageMix application for iPad and related software is also being updated to deliver enhanced freedom and operability, further expanding the range of applications to which CL and QL consoles are suited.
Key features:
· The three-channel EQ algorithms included in Yamaha's flagship Rivage PM10 system are now available to CL and QL users. The 'Precise' algorithm offers surgical precision for pinpoint frequency control, 'Aggressive' delivers musical response with a wide control range and 'Smooth' allows natural sounding response adjustments while keeping the sonic nuances of the source intact. The 'Precise' algorithm also includes a Q parameter that makes use of overshoot for flexible control.
· The MBC4 is a four-band multiband compressor that combines a refined user interface, with advanced VCM modelling. The musical response of analogue compressors has been studied in depth and recreated in detail in the MBC4 gain reduction circuit, allowing flexible dynamics processing while retaining the integrity and musicality of the source.
· Control and Monitoring for Shure ULXD4D and ULXD4Q Digital Wireless Receivers
Shure ULXD4D and ULXD4Q channel name entry, receiver gain and mute control, plus monitoring of receiver gain, mute, frequency, diversity, battery RF strength and audio level are now available via CL and QL console touch displays.
· In Solo Mode, the Cue keys can now be used to control input and output solo functions for smoother line checks and other procedures.
· The Matrix 7/8 bus can now be used as a Cue B bus. The separate Cue buses can be accessed via the console (FOH) controls or remotely via the Editor software or StageMix application (Monitor).
· The new firmware supports MonitorMix, an iPhone, iPad and iPod Touch app that allows wireless control of send levels to the mix bus. Up to ten devices running MonitorMix can be used simultaneously, providing a convenient way for individual performers to adjust their own monitor mix, while not affecting the mix heard by other performers.
· Scrollable DCA Roll-Out (CL only). When channels assigned to a DCA group are 'rolled out' to a console fader bank, but the number of assigned channels exceeds the number of available faders, a channel encoder can now be used to scroll through the channels.
Graphic EQ Control from Touch & Turn Knobs
· The gain of the GEQ band specified via the touch screen and Touch & Turn knobs can now be adjusted while the faders are being used for DCA or channel control.
CL/QL Editor Reads and Writes CSV Files
· The CL/QL Editor can now read and write CSV files containing channel name, icon, colour and patch information.
· The head amplifiers in the Tio1608-D I/O unit for TF series digital mixing consoles can now be controlled from CL and QL consoles, making it possible to combine the Tio1608-D with the Rio3224-D and Rio1608-D I/O units.
· Effect parameters that could previously only be edited via the CL or QL series console can now be edited using the StageMix application. A new easy-to-use graphical user interface for the reverb and delay effects is also included.
'Firmware update V4.0 expands the expressive potential of CL and QL series consoles,' says Yamaha Pro Audio Business Unit Director, Ken Hiraoka. 'Some of the new features extend to other parts of the system as well, notably the StageMix app and Shure ULX-D digital wireless components, enhancing operability of the entire system. Yamaha will continue to listen and respond to customer feedback in order to provide the best possible working environments for a wide range of applications.'
Steinberg's Nuendo Live multitrack live recording software is now also being bundled with QL and TF series consoles. The CL/QL V4.0 firmware update will be available as a free download from the Yamaha Pro Audio website by the end of April 2016.