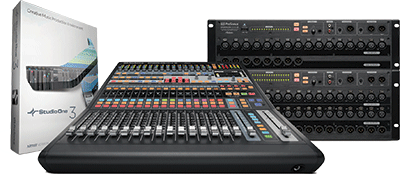 Designed for live sound and studio recording, the PreSonus StudioLive AVB 32AI Mix System combines a StudioLive RM32AI rack mixer; StudioLive CS18AI Ethernet/AVB control surface; and control, recording and production software.
Networked over AVB Ethernet, and integrated with included software, the StudioLive AVB Mix Systems put I/O on stage, rackmount the mixing system with an integrated recording interface, provide Wi-Fi and Ethernet networking, with 18 touch-sensitive, motorised faders and 4x2 I/O at front-of-house.
Four systems are available – the StudioLive AVB 16AI Mix System, with one StudioLive RM16AI mixer; StudioLive AVB 32AI Mix System, with one StudioLive RM32AI; StudioLive AVB 48AI Mix System, with one of each RM model, cascaded to form a 48-input, 64-channel system; and StudioLive AVB 64AI Mix System, with two cascaded StudioLive RM32AIs for a 64-input system. A single-mixer AVB Mix System can be expanded by cascading a second RM-series mixer. Both mixers in a cascaded AVB Mix System can be controlled from the StudioLive CS18AI and from UC Surface touch-control software.
Equipped with 100mm, touch-sensitive, motorised faders and AVB networking, the StudioLive CS18AI control surface provides mixing control for StudioLive RM32AI rackmount digital mixers and for Studio One 3 digital audio workstation, which is included with all AVB Mix Systems. The CS18AI and RM mixers connect to the network with Cat5e or Cat6 Ethernet cable, eliminating the need for analogue or digital snakes and stageboxes.
StudioLive AVB 64AI Mix Systems are integrated with a suite software, including UC Surface mix-control software for Mac, Windows, and iPad; QMix-AI monitor-mix control app for iPhone/iPod touch; Capture live recording software; and Studio One Artist.
An associated firmware update for RM-series mixers adds a new Stage Box mode that allows use of StudioLive RM-series mixers as I/O devices in conjunction with StudioLive AI-series consoles. Simultaneous updates to the StudioLive CS18AI and Capture 2 recording software add remote control of Capture from a CS18AI and UC Surface for control virtual soundcheck, transport, and record arm; and drop markers from anywhere in a venue. The updates also provide advanced networking features, performance improvements and bug fixes for StudioLive AI consoles, RM-series mixers, CS18AI, UC Surface and Capture.
Key features:
· 18 100mm, touch-sensitive motorised faders.
· Control StudioLive RM AI mix systems of up to 64 channels.
· Active Integration with PreSonus software includes UC Surface software.
· Studio One 3 control surface functionality.
· AVB/Ethernet connectivity .
· 4x2 AVB audio transport with two remote Xmax mic preamps.
· Two balanced quarter-inch TRS line inputs, and 2 XLR line outputs.
· Stereo headphone output.
· PreSonus Fat Channel DSP control.
More: www.presonus.com