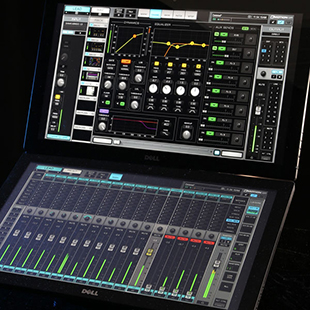 Based on Waves SoundGrid technology, the Waves eMotion LV1 is billed as a 'revolutionary' live digital mixing console that provides real-time audio mixing for FOH, monitor and broadcast.
The software mixer with each channel having its own plug-in rack capable of running up to eight Waves and third-party plug-ins. All plug-in presets and chains saved in eMotion LV1 can be shared with the Waves MultiRack and StudioRack plug-in hosts, allowing engineers to move between live and studio environments. The mixer's channel strip – its standard EQ, filters and dynamics processing – is provided by Waves eMo plug-ins: eMo D5 Dynamics, eMo F2 Filterand eMo Q4 Equalizer. All eMo plugins are designed for maximum clarity and efficiency in a live performance environment.
eMotion LV1 comes in three configurations: 64, 32 or 16 stereo/mono input channels, and can be controlled by hardware control surfaces and multi-touch devices, ranging from four touchscreens to a single laptop or tablet.
Using SoundGrid infrastructure for audio networking, the eMotion LV1 can be configured as a portable or stationary set-up, and can connect to any SoundGrid-compatible I/O or server. The mixer can be run anytime, anywhere – at home, in a hotel room, on a tour bus, or at the live venue.
Key features:
· Up to 64 stereo/mono input/36 stereo bus/return channels.
· Run 8 SoundGrid-compatible plugins directly on each channel.
· Standard channel processing provided by Waves eMo plug-ins.
· Up to 16 auxes, 8 audio groups (stereo/mono), LRC/Mono, 8 matrixes.
· 16 DCA faders, 8 mute groups, 8 user-assignable function controls.
· 32-bit floating point mix engine; up to 96kHz sample rate.
· Compatible with industry-standard control surfaces.
· Connect to diverse SoundGrid I/Os & drivers and to multiple DAWs.
· Windows/Mac 64 bit-compatible.
See also:
Waves Audio Flux:: plug-in compatibility

More: http://www.waves.com/mixers-racks/emotion-lv