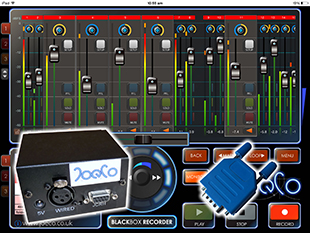 JoeCo has updated its remote control software for iPad to JoeCoRemote 3.0 which, along with two new hardware interfaces, JoeCo MultiRemote and JoeCo Bluetooth, offers improvied flexibility for remotely controlling 24-channel and 64-channel BlackBox Recorders and Players.
Used with the JoeCo MultiRemote interface, JoeCoRemote 3.0 for iPad enables up to four BlackBox systems to be simultaneously triggered, monitored and controlled using a single iPad. This new technology has been developed to meet demands from customers for the remote control of projects involving multiple systems and larger track counts. Using an iPad, users can view input metering on each connected BlackBox and create a real-time monitor mix using expandable channel strips in each of the Monitor windows. Multiple fader groups can be created for easier handling.
A new Player window revolutionises creating and controlling Playlists when the BlackBox Player is used as a multichannel playback device. Changes to a set list can be made on-the-fly and can also be written to both the Main and Backup disks simultaneously, ensuring that a pair of BlackBox systems configured as failover players are fully in sync. This enables the creative decisions of song order to be changed at a moment's notice if required.
For broadcast/film applications, JoeCoRemote 3.0 enables iXML data to be created and modified from within the software. The app also features headphone volume and master mix level controls.
The JoeCo MultiRemote hardware interface offers instant remote control of all connected BlackBoxes via wired connection to a single iPad. For wireless operation, the MultiRemote box can be connected to the standard JoeCoRemote hardware interface.
The new JoeCo Bluetooth hardware interface offers a more cost-effective alternative for wirelessly controlling a BlackBox and iPad. The tiny module can either be connected directly to the BlackBox itself, or to the JoeCo MultiRemote interface for wireless control of up to four BlackBoxes. JoeCo Bluetooth uses BLE4.0, which is supported by third-generation iPad or later.
Both new hardware interfaces are available from JoeCo sales partners or from JoeCo direct. The JoeCoRemote 3.0 software app can be downloaded for free from the iTunes App Store. BlackBox Recorder/Player owners must also update their BBR system software to v3.2.0.0. This is available for downloaded from the JoeCo website End User area.
More: www.joeco.co.uk