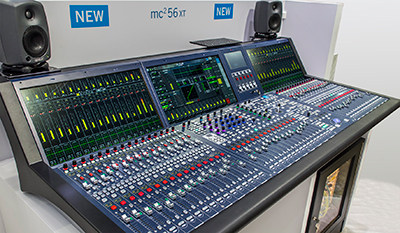 Lawo has announced the mc²56
XT
broadcast console, which is derived from the company's mc²56 console but doubling the fader count in the same footprint.
Responding to the requests for a surface arrangement that provides more physical faders, the console has been designed to be both easy to understand and intuitive to operate and offers an enhanced feature. The new model can be configured with 48 to 144 faders arranged in a high-density dual fader layout, with further expansion achieved using 16 or 32 fader stand-alone extenders.
'The mc²56XT addresses a variety of requests that we've received from sound engineers,' says Philipp Lawo, CEO of Lawo. 'By adding more faders on the same footprint we have demonstrated Lawo's commitment to listening carefully to our customers while also providing world-class, customisable solutions for the most demanding mixing projects. I'm confident many audio professionals will find the mc²56XT desk a compelling solution when high fader count is needed in a restricted operating environment.'
The mc² 56XT can be custom configured to address a wide range of workflow requirements. The meter bridge shows all fader Ievels on the console's HD touchscreen displays, with multi-row metering for easy viewing of all fader levels (including the XT's second fader row), as well as signals from other layers or banks. For further customisation, the overbridge accommodates integration of additional modules such as a user panel or RTW goniometer. And recognizing that AoIP will, in the next few years, become the dominant transport technology in the broadcasting industry, Lawo has already integrated Ravenna/AES67 technology into all mc² 56 consoles – with only two slot-in cards allowing the construction of a consistently reliable audio network.
More: www.lawo.com