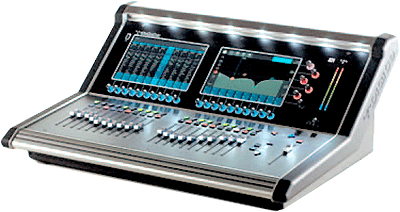 DiGiCo has unveiled the SD21 live mixing console, offering 46 buses, 40 Flexi channels and 16 Flexi buses, operated via two P-CAP multi-touchscreens. The console's integrated USB-to-DAW connectivity enables 48-track recording, and dual DMI option card slots to support analogue expansion, as well as support for Madi, Dante, Optocore, Waves SoundGrid and Calrec's Hydra2 networking.
'We wanted to design an entry-level console that retained all the features and values DiGiCo is known for in terms of quality, ergonomics and style, and one we could be truly proud of at a price point that allows even more audio engineers to join the DiGiCo family,' says DiGiCo MD, James Gordon. 'In fact, that was the condition John Stadius put on his design team. It is also why the console has been hidden in development for close to three years.'
Having been among the first audio companies to adopt FGPA chips for core processing, the SD21 is built around new lower-cost FPGA components (running the same audio algorithms as its other SD consoles) married to a new ARM QuadCore RISC processor, providing both faster processing and lower power consumption. Using the QuadCore SoC and high-bandwidth memory, the S21 uses a low -power 484-ball array FPGA and fourth-generation control SHARC DSP, capable of not only controlling the FPGA but with the potential to expand its processing capabilities.
The console uses the latest P-CAP multi-touchscreens for visual feedback and gesture control via multiple multi-touchscreens. The compact dual-screen design provides ten channel strips per screen giving indication and control over 20 simultaneous channels. The newly designed drag, swipe and drop channel layout system makes it simple to move channels and buses across the surface to design custom fader layouts. Visual feedback is all reinforced with the HTL functionality of the encoder rings, and anything not in use is automatically greyed out on the console so operator's attention is drawn to the right controls.
Key features:
· 96kHz as standard.
· 24 mic line inputs.
· 12 analogue outs.
· Two AES I/O (mono).
· Word Clock I/O.
· GPI and GPO connections.
· DVI out (for an external monitor).
· Two DMI slots (up to 64 I/O per slot).
· Two Ethernet connections for networking.
· Two 24 segment master/solo meters.
· Touch sensitive rotaries with integrated switch & HTL.
· Two multi-touchscreens.
· 21 touch-sensitive moving faders (four layers of banks of ten).
· Customisable bank and channel layout.
· Integrated USB2 Audio I/O.
· 46 buses: 16 x stereo (32), stereo Master (2), solo buses (2 stereo, 4 total), and 10 x 8 Matrix (8).
· 40 Flexi-channels Mono/Stereo (equivalent to 80 DSP channels).
· 16 Flexi buses Mono/Stereo (equivalent to 32 DSP buses).
· 16 assignable 32-band graphic EQs.
· Eight FX engines (reverbs, delays, w/modulation and enhancer).
· Four assignable DiGiTubes.
· Four assignable multiband compressors.
· Compressor per channel and bus.
· One gate per channel and bus (switchable to ducker, or compressor with side chain access).
· User definable Macros.
· High-power headphone amplifier.
More: www.digico.org