The Mackie DL32R with iPad Control promises a powerful digital mixing system completely controlled wirelessly from Mackie's Master Fader iPad app. The system features full wireless control over fully-loaded DSP and multitrack recording/playback.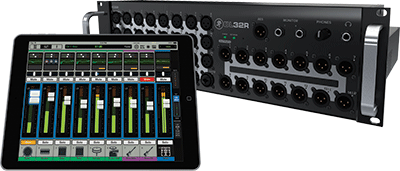 The DL32R 32-Channel Wireless Digital Mixer features a flexible, I/O in a 3U-high rackmount package. Each input (24 XLR, eight XLR/TRS combo) features Mackie's Onyx+ recallable mic preamps, with remote control over preamp gain and phantom power. 'You get frequency response that goes all the way down to 20Hz within 1dB at all gain settings,' says Ben Olswang, Mackie Senior Product Manager. 'Noise is minimised at every gain setting, not just minimum and maximum like other mixers. Designed for the rigid standards of professional live sound, DL32R's gain changes are completely silent.'
Fully-assignable using the control app, the 14 XLR outputs are capable of supporting stage monitors and matrix outputs. The front panel also features a stereo AES digital output for connecting speaker processors, and a dedicated stereo monitor output serves in-ear monitoring.
Using iPad app control, a problematic FOH position – under a balcony, behind a pillar – can be abandoned in favour of a location where the mixer works best. This can also eliminate the need for an analogue snake. A room can be tuned from the problem spots and the stage monitor mix set from the stage.
Multiple engineers can work wirelessly from a single DL32R mixer using their own iOS devices, including monitor engineers and performers who wish to control their own monitor mixes. The lead engineer can apply access limiting to additional control devices, keeping the user from making unwanted changes.
The DL32R offers two methods for multitrack recording and playback. The first of these is direct to USB hard drive, which is currently a 48kHz, 24-bit, 24x24 platform. This will be expanded soon to 32x32 via a free firmware update. The direct-to-disk option delivers unprecedented wireless control over multitrack recording and playback.
An additional USB 2.0 computer audio interface is available for 32x32 recording and playback that can directly connect with any DAW. Both methods provide the ability to record the band and perform a virtual soundcheck at the next show. This is a powerful and professional way to dial in a mix at any venue.
The DL32R's DSP eliminates the need for outboard processing. Each of the 32 inputs features a 4-band parametric EQ with a separate high-pass filter, plus gating and compression. Four return channels feature dedicated EQ and compression. Each of the 14 aux sends, six matrix busses and main LR buses feature a 4-band parametric EQ, 31-band GEQ, a compressor limiter and alignment delay. Six subgroups feature EQ and compression. Each processor features Modern and Vintage voicing options, delivering sonic choice to the user. Three separate effects processors with dedicated sends allow for two reverbs and one delay with tap control. Six VCAs and six Mute Groups complete the processing.
Designed from the ground up for live sound, Mackie's Master Fader iPad app delivers total wireless control over the DL32R: 'One of the most powerful features of Master Fader is our user-definable view groups,' Olswang says. 'Select the channels for each of the six view groups to easily switch between things like drums, guitars or vocals. This means no swiping and no remembering what bank to select. Just go right to what you need.'
Master Fader is loaded with factory presets and end-users can also create their own custom presets, simplifying and minimising setup when working with common and familiar set-ups. There's also the ability to share these presets via email or Dropbox.

Dante working

The DL32R DL Dante Expansion Card provides 32x32 channels of audio I/O, allowing the desk to be connected to any Dante-powered A/V network. Flexible IO patching in the DL32R allows Dante signals to be routed to any channel input, and send any of the mixer's outputs to the Dante network.

'Dante is the clear choice for A/V networking,' says Olswang. 'Dante allows the DL32R to connect to hundreds of Dante-enabled audio devices with the seamless interoperability and ease of use that are hallmarks of Mackie products. Dante software is simple and complete, and takes the mystery out of networking while delivering incredible performance.'
'The Mackie DL32R has had amazing market response, and we are incredibly pleased to add Mackie to the list of our 190-plus manufacturers using Dante,' adds Audinate CEO, Lee Ellison. 'Their products have long been favourites of musicians and sound engineers. The DL32R with Dante brings Mackie sound and usability to A/V networking, allowing users to easily deliver audio where they need it, when they need it, with no compromises.'
The DL Dante Expansion Card ships with a license for Dante Virtual Soundcard software, allowing direct recording/playback of up to 64 channels of audio from any Dante network to a PC or Mac.
The Mackie DL32R with iPad Control is available now at an MSRP of US$2499.99.
More: www.mackie.com/DL32R