Calrec has added an automatic mixing function to its Bluefin2 signal-processing engine – the heart of its Apollo and Artemis mixing consoles.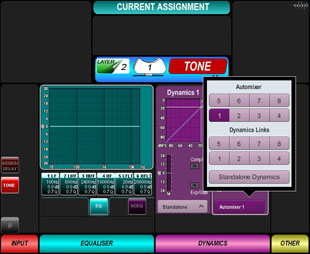 Called Automixer, this attenuates the output levels of all channels under its control to maintain consistent programme levels in environments with multiple open microphones and unpredictable audio content. The feature also suits panel-style discussion shows, where guests speak over each other and there are unpredictable changes in sound levels.
Eight separate Automixers can be configured, each of which can be assigned to control any number of mono input channels and group paths on the control surface. Unlike compression of a mix bus, or use of individual or linked compressors on paths, an Automixer applies differing amounts of attenuation to each path, depending on its own level, as well as the overall mix level. Paths can be assigned different levels of emphasis to allow, for example, the host of a show to stand out from the guests.
'The Automixer feature is like having many hands operating the fader levels,' says José Alfredo Alanís, audio engineer at Mexico's Grupo Televisa. 'All you have to pay attention to are the gain structure and the output levels. The microphones are clean, without the annoying reflections from the floor or the holes between the guest and the main anchor.'
Automixers can be selected on a per-channel basis, to be placed in the signal path pre-EQ, prefader or postfader. Upstand metering can be configured to show Automixer attenuation alongside signal level on each path.
'At Calrec, our customers drive our product lineup, and Automixer is another example of that philosophy,' says, Calrec Head of Sales & Marketing, Henry Goodman. 'We pay close attention to our customers and put a great deal of effort into developing products that will make their jobs easier.'
More: www.calrec.com