Roland's R-88 8-Channel Recorder/Mixer is aimed for recordists moving from stereo in to multichannel recording, and those need more channels than offered by a four-channel recorder.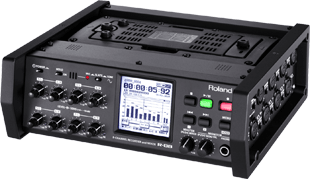 Designed to accommodate a variety of applications, the R-88 provides portable recording and mixing from multiple microphones for location and music sessions. Complimenting the existing range of Roland portable and hand-held field recorders, the R-88 claims 'high quality yet affordable' satus, with rugged construction and extended feature set.
The R-88 is a multitrack SDHC/SD card recorder with eight channel XLR inputs/outputs and the recording capability of eight tracks and a two-channel stereo mix at 96kHz, 24-bits, or four tracks at 192kHz, 24-bits –uncompressed recording of broadcast wave files – with selectable bit lengths (16-bit or 24-bit) and sampling frequencies (44.1kHz/48kHz/88.2kHz/96kHz/192kHz).
The R-88 has eight XLR inputs, each with phantom power (+48V) and onboard effects including limiter and low-cut EQ on each channel. A built-in limiter helps recording free of clipping, whils the low-cut filter minimises like wind and mic handling noise. Studio class effects, such as three-band EQ, six-band GEQ, Enhancer or DeEsser, can be applied while recording or simply for monitoring/playback.
Using SD cards or large-capacity SDHC cards as recording media, the R-88 supports recording and transfer of data to PC or postproduction hardware.
Connecting the R-88 to a PC/Mac involves using the R-88 as a removable drive to transfer audio files or using the dedicated driver as an audio interface. The USB Audio I/F feature enables the R-88 to act as an audio interface to a computer (PC or Mac) when connected by USB, appearing to audio software on the computer as ten inputs and eight individual outputs. The USB host terminal of the R-88 enables high-speed and instant backup of recorded data to flash memory and memory cards via card reader or HDD storage.
The R-88 is fully compatible with SMPTE time code and can act as slave (with time code regeneration on the timecode out) or as master to enable a fully synchronised video workflow. Further workflow aids are included such as Slate facility from onboard mic for memo recording or Slate tone (1kHz/-20dBFS) and a jack input which allows control of play, record, rewind and more via optional single or dual footswitches.
For film recording on location, multiple wireless and boom microphones can be connected to the R-88, mixing the audio signals and outputting a stereo mix to a video camcorder or DSLR, while simultaneously recording each audio signal for subsequent postproduction. Six microphones can be connected to the R-88 for surround recording on location, providing 2-Mix monitor on headphones. For concert recording with multiple microphones, the microphones and PA outputs can be connected directly to the R-88. The R-88 records each individual channel and 2-Mix from the microphone inputs at the same time.
The metal exterior of the R-88 provides added rigidity and durability, while the compact size and the choice of batteries or DC input, make the R-88 easily portable. A large touchpanel display makes the user interface easy and intuitive to use.