The Solid State Logic Live-Recorder system promises high-quality, low-cost solution for high-channel-count live, location or broadcast recording from FOH console systems. Likelt applications include location film sound recording, TV broadcast production studios and broadcast production trucks.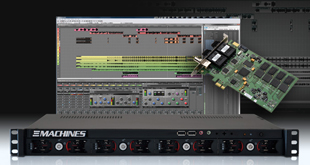 The Live-Recorder system connects via standard optical Madi, so it can connect directly to Madi-equipped digital mixing consoles, venue audio distribution infrastructure (Riedel, Optocore) or broadcast routers. Each Live-Recorder system can record up to 128 channels at 48kHz and 24 bits, or 64 channels at 96kHz.
Live-Recorder combines Soundscape v6.2 DAW recorder/player software and a MadiXtreme or MX4 PCIe audio interface with an industrial-strength, high-performance 1U-high rack-mounting PC. Soundscape v6.2 is a powerful audio-only multitrack DAW recorder/player with SSL's Pro-Convert technology built in, so it can export recorded multitrack sessions in a range of formats native to a selection of popular DAW packages for editing and mixing. Export formats include Pro Tools 8 and 9 sessions, Cubase/Nuendo track archives, Final Cut XMLs and Samplitude/Sequoia edit lists.
Soundscape v6.2 also offers session import from supported DAWs, so it can be used as a player for full multitrack sessions for live performance if required. The Soundscape v6.2 software offers comprehensive nonlinear editing capabilities if required and has the capacity to add extensive notes and metadata. The software also features advanced crash recovery systems, which will retrieve incomplete audio recordings on reboot after a host system catastrophic failure such as sudden power loss.
The Soundscape Live-Recorder system supports MTC and MMC via standard Midi interfaces or Midi over Ethernet for external system sync and transport control.
There are two different Live-Recorder hardware configurations – Live-Recorder MX4 offers up to 128 channels using an SSL MX4 2x64 channel Madi I/O interface. It provides an open-architecture DSP-powered software mixer, which allows anything from simple individual track or stereo sum monitoring to sophisticated multi-feed and 5.1 monitoring. MX4 offers high-quality summing and includes SSL EQ, Dynamics and Bus Compressor plug-ins. Specifying a Live-Recorder MX4 with an SSL Alpha-Link audio converter provides local headphone, analogue I/O and digital I/O connectivity. Live Recorder 128 is a stripped-down system designed for environments where no confidence monitoring is required. It utilises an SSL MadiXtreme 2- x 64-channel Madi I/O interface for direct optical Madi connection to consoles, routers and so on.
The 1U-high SSL-certified PC has been specified by SSL and developed in association with key hardware partners in Europe and the US. Each machine is housed in an ultra-quiet, front-cooling 1U-high chassis with 4x drive SSD RAID array as standard. These machines are built to very high industrial standards, using proven components, and are extremely robust.
Live-Recorder systems are due to ship from April 2012 and will be available exclusively direct from SSL online.
See also:
More: www.solidstatelogic.com