Solid State Logic has announced the UF1 DAW Control Centre, 'the ultimate single fader controller for music creators looking for comprehensive control over their DAW environment'.
Designed around SSL's advanced workflow with intuitive control features, UF1 offers comprehensive control of a DAW for in-the-box production. The unit boasts a 100mm motorised fader, dual high-resolution displays, soft-feel durable rubber keys and a weighted jog wheel, all housed in a robust metal chassis.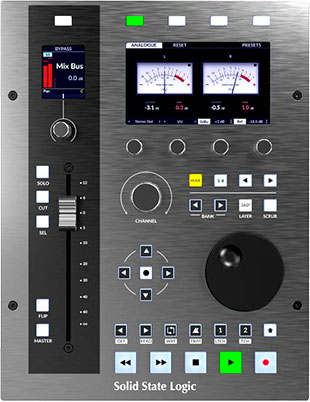 UF1 offers complete control of a DAW's pans, sends and plug-ins, plus the ability to customise 46 soft keys specifically to a user's workflow. It offers clear and insightful visual feedback, intuitive control and deep integration with the new SSL Meter Plug-in and SSL 360° software.
'Intelligent or advanced workflow, as we call it, has always been at the core of our product design. UF1 is no different – we have once again raised the bar on what is possible to keep artists, producers and engineers in the zone while working on in-the-box productions or in a hybrid environment,' says SSL Studio Senior Product Manager, Andy Jackson. 'Featuring expansive functionality and flexibility, UF1 offers performance never seen before in a controller of this size and when combined with UF8 and UC1, presents an extremely powerful virtual SSL Console'.
UF1 can control up to three DAWs simultaneously, and comes with profiles for Pro Tools, Logic, Cubase, Studio One, Ableton Live, Luna and Pyramix. Dedicated transport controls and weighted jog/scrub wheel make moving around large sessions quick and efficient. Secondary transport keys can be customised to essential workflow shortcuts such as Loop on/off and Click Track on/off. Or pressing the Shift button gives fast access to DAW automation modes. The 100mm motorised SSL fader offers precise control when writing automation and of course, fine tuning track volume in recording and mixing sessions.
Instant, in-depth visual feedback of DAW track names, parameters, time display, the SSL Meter plug-in and 360°-enabled channel strips in the SSL Plug-in Mixer is provided by UF1's dual high-resolution displays. SSL channel strip plug-ins, including latest 4K B and 9000 series emulation, Channel Strip 2 can be controlled from the UF1 surface with key information including EQ curve, and gate and compression activity shown across the displays.
Beyond its DAW control, UF1 purchase includes a perpetual license for the SSL Meter plug-in which is visualised on the 4.3-inch IPS display and can be controlled directly from the UF1 surface or the SSL 360° Plug-in Mixer. The SSL Meter Plug-in offers essential metering tools including Peak & RMS levels, K-System, stereo balance, phase corelation bar, Lissajous phase scope, 31-band RTA, vu and PPM metering.
The unit can be used on its own or partnered with UF8 for deeper SSL DAW control. UF1 also offers ahardware expansion for the UC1 SSL plug-in controller, adding fader control and providing easy access to SSL 360°-enabled channel strip parameters alongside visual feedback of EQ curves.
The UF1 is available now and is priced at £499 ex VAT, US $699 and €599. It comes bundled with a perpetual licence of new SSL Meter Plug-in and a six-month trial of SSL Complete.