Tascam has announced v1.10 firmware for the Portacapture X6 32-bit Float Portable Audio Recorder for videographers, vlog content production, media production, and music applications.
With v1.10 firmware, Portacapture X6 can now store three unit settings and three recording app settings, making the process of saving different recording configurations quick and easy to access for different types of project. Further, these settings can be recalled with a single tap directly from the Launcher screen.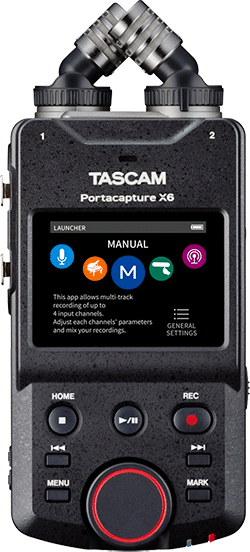 In addition, the Portacapture X6 Input Settings, including low-cut filter, compressor, limiter, auto gain control, noise gate and other effects can be saved in up to three presets. These Input Settings can be loaded in each recording app.
With v1.10 firmware, the Portacapture X6 now has the capability to use 32-bit float point resolution, which enables the preservation of audio resolution even after adjusting levels, when using the unit as a USB audio interface to a DAW. This facilitates wider dynamic range, higher resolution and greater audio quality. When using a Windows OS computer for the DAW, be certain to download the latest Portacapture X6 ASIO driver (v1.30).
Version1.10 firmware also includes support for wireless time code synchronisation with compatible Atomos products, including AtomX Sync, UltraSync Blue, Atomos Connect and Shogun Connect. To take advantage of the wireless time code synchronisation function, the optional Tascam AK-BT1 Bluetooth adapter is required.
With v1.10 firmware, the Portacapture X6's USB mix minus function can now be used in the Podcast app. This new feature provides the ability to suppress the occurrence of echoes in the audio from remote participants when using the unit for capturing podcasts. Another important enhancement when using the Podcast app is the ability to select PAD and USB input in addition to the built-in microphone input. This enables the audio from conference software like Skype, Zoom and Teams to be monitored and recorded.
In addition to the primary v1.10 firmware update enhancements, several additional maintenance items have been updated. The Portacapture Control app can be used for remote control of the Portacapture from a smartphone or tablet. Now, even if the app is communicating in the background on the device and the smartphone or tablet enters energy-saving mode, the connection with the X6 will no longer be interrupted. Please note that this is supported by the Portacapture Control app v1.33 and later. Use of the optionally available Tascam AK-BT1 Bluetooth adapter is required to use the Portacapture Control app.
Tascam has introduced Portacapture X6 Firmware Updater, an app for Windows and macOS that, when the X6 is connected to the computer via USB, searches the Tascam web server for any new updates, and automatically updates the unit with just a few clicks.
More: www.tascam.com