PreSonus has released Studio One 5.4, the latest version of its recording and production software, and the third major feature update in less than six months.
Studio One 5.4 introduces performance and capability improvements and is accompanied by full native support for Apple Silicon processor-based Macs – covering plug-ins, extensions and hardware drivers for macOS, as well as Capture, Universal Control, PreSonus Hub and Worx Control applications.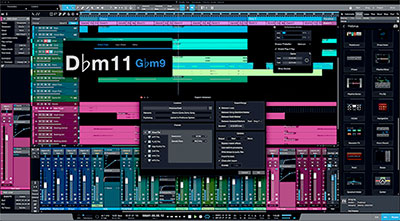 A new Plug-in Nap option improves CPU performance for Windows and macOS computers, and reduces the risk of audio dropouts by not processing plug-ins when they are not passing audio. With this option enabled, users can run multiple instances of complex convolution reverbs, amplifier/cabinet models, and other demanding plug-ins with greater CPU efficiency, while reducing the risk of audio drop-outs. Studio One Mix Engine FX plug-ins have also been updated for greater CPU efficiency.
Up to seven audio formats can now be exported in one pass, with no added rendering time. This allows users to simultaneously export song as a 44.8kHz WAV for a video project, while simultaneously creating a 44.1kHz MP3 to check the mix. The settings are remembered when closing the Export Mixdown window.
The new floating, resizable Chord Display renders both the current and coming chords on the Chord Track during recording and playback – useful in classrooms and rehearsals for music students and educators, and session musicians can use it as a one-click digital lead sheet in the studio.
New Plug-in Manager features and improvements make it easier to identify issues and outdated or slow-loading plug-ins. A new Statistics tab enables monitoring load/save times and preset sizes and identifies the version number for each plug-in. In addition to manually resetting the Blocklist or removing individual plug-ins, problematic plug-ins can be manually isolated by dragging them from the plug-in list to the Blocklist.
The Universal Binary macOS version is switchable between native Apple Silicon and Rosetta Intel-emulation modes. Native mode offers additional CPU optimisation for overall performance but requires plug-ins, instruments, and hardware drivers to be native.
'We've always been proactive in staying on top of the latest computer CPUs and OS updates, and having full native support for Apple Silicon is extremely exciting for us,' says PreSonus Executive Vice President of Product Management, John Bastianelli. 'Our Mac customers can now take full advantage of the incredible processing power of the new Apple Silicon processors, enabling them to use more plug-ins, VIs, and tracks, all with increased efficiency. At the same time, we support Rosetta 2, so, for example, Studio One will continue to "play well" with properly designed third-party plug-ins that have not yet made the jump to native Apple Silicon processing. And of course we continue to support the Intel platform.'
Studio One 5.4 is a free update for registered Studio One 5 users and is included in PreSonus Sphere membership.