Voicemeeter 8 (Potato) completes the VB-Audio Voicemeeter Series with a virtual mixing console application, offering five physical I/O and three virtual I/O to connect more audio devices and more applications together and to provide greater control of audio workflows (now from 44.1kHz to 192kHz).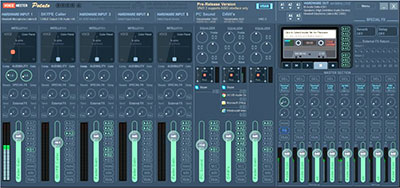 This Voicemeeter release (v3.0.0.7/2.0.4.7/1.0.6.7) offers new virtual audio drivers for the entire series (also Voicemeeter Standard and Voicemeeter Banana) to improve reliability, optimise CPU load, improve audio quality and support fully compatibility with all Windows versions (XP, Vista, WIN7, 8, 8.1, WIN10 32 or 64 bits and Windows Server 2003, 2008, 2012, 2016 32 or 64 bits). Voicemeeter also installs virtual ASIO drivers (four clients per ASIO driver) to connect to 32- and 64-bit DAWs, and a Virtual ASIO insert driver to connect a VST host to process any pre-fader inputs with any VST plug-ins.
Voicemeeter Potato brings new features inspired by professional mixing consoles and provides better Microsoft windows integration. With the eight-bus multi-layer mixer, it is now possible to define an independent mix for each bus. The internal FX section offers reverb and a multitap delay FX for use as a music production mixer. The external FX section provides regular aux with send and return paths to connect external hardware FX. Finally, Potato virtual input strips show the connected applications with a volume and mute control for each (as it is proposed by the Windows Volume Mixer).
The Voicemeeter Series also provides extra services through VBAN protocol to transport Real Time audio, Real time Midi and Real Time Remote Control over network. The Voicemeeter package also installs additional applications like MacroButtons, VBAN2MIDI and 2 examples of a BUS APA (Audio Processing as Application) ,a 15-band graphic EQ and a 8x8 gain matrix. Voicemeeter comes with an API to control any parameters or process audio inside Voicemeeter in a client application programmed in any language supporting standard DLL.
More: www.voicemeeter.com